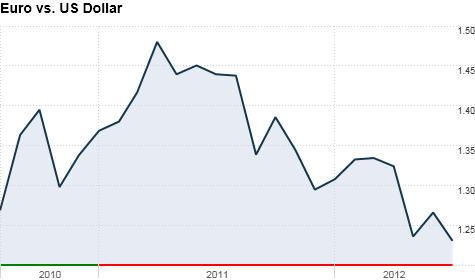 Click the chart for more info on currencies.
NEW YORK (CNNMoney) -- The euro fell to a two-year low against the dollar on Friday, as investors flocked to the security of the greenback following grim economic news this week.
The euro was trading at $1.23 against the U.S. dollar on Friday, down 0.9%. It was down 1.2% against the Japanese yen.
The drop follows the disappointing monthly jobs report released in the U.S. Friday, which showed that the economy added only 80,000 jobs in June -- not enough to keep up with population growth.
A day prior, the European Central Bank lowered interest rates to all-time lows, though it did not introduce any unconventional tactics to stimulate economic activity.
"I think what you're seeing is players taking a more defensive strategy," said Michael Woolfolk, senior currency strategist at Bank of New York Mellon. "Going into the weekend after two disappointments, the market wants to be long with the safe havens of the dollar and the yen."