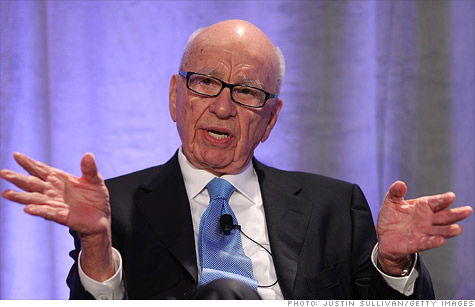 News Corp. CEO Rupert Murdoch.
NEW YORK (CNNMoney) -- Rupert Murdoch's News Corp. reported a $1.6 billion quarterly net loss on Wednesday due to a write-down in the value of its publishing businesses.
The company reported non-cash writedowns worth $2.8 billion that it said were primarily related to its publishing unit, and "most significantly the Australian operations."
Excluding this and other special items, however, News Corp. reported earnings per share of 32 cents, in line with the consensus estimate from analysts surveyed by Thomson Reuters. Revenue was $8.4 billion, against a consensus estimate of $8.7 billion.
News Corp. (NWSA, Fortune 500) shares fell 3.4% in after-hours trading Wednesday.
News Corp.'s holdings include the 20th Century Fox film studio, the Fox broadcast network and Fox News Channel, as well as newspapers around the world including The Wall Street Journal, The Times of London and The New York Post.
The company's cable networks led the way in the quarter, with profits rising 26% versus a year prior, the only division to post an increase. The filmed entertainment and publishing divisions, by contrast, had their income roughly cut in half.
The results come following the company's announcement in June that it is planning to split into two publicly traded companies, with one company for its television and film assets and the other including its publishing entities. The announcement prompted a surge in the company's share price.
News Corp. said in Wednesday's earnings release that this separation will likely be finalized "in approximately one year."
Once the split is completed, Rupert Murdoch will serve as chairman of both companies, according to News Corp. Murdoch will also serve as CEO of the media and entertainment company and Chase Carey will serve as its president and chief operating officer. Carey is currently the COO of News Corp.
News Corp. has not announced a CEO for the publishing company, which would be less than one-third the size of the media/entertainment company.
News Corp. has been roiled over the past year by revelations that reporters at its now-defunct News of the World newspaper hacked into voicemails of subjects including a missing teenage girl who was eventually found murdered. The company reported a $57 million charge for the quarter related to ongoing investigations of the conduct.
News Corp shares, however, have performed strongly this year, rising nearly 30%. Elsewhere in the media industry, Viacom (VIAB, Fortune 500) shares have risen 7%, while CBS (CBS, Fortune 500) is up 31% and CNNMoney parent Time Warner (TWX, Fortune 500) has climbed 16%.
Disney (DIS, Fortune 500), which reported record quarterly earnings on Tuesday, is up 32% for the year.