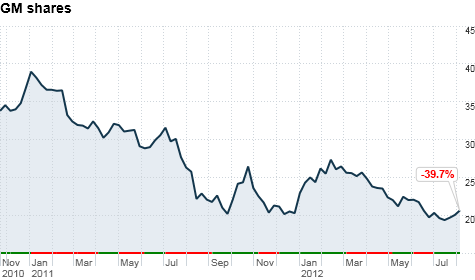 NEW YORK (CNNMoney) -- General Motors CEO Dan Akerson bought just over $500,000 in GM stock with his own money this week.
The purchase, detailed in a filing with the Securities and Exchange Commission, is unusual in that most stock purchases by CEOs are done as part of their compensation packages, not as their own investment.
Akerson bought 25,000 shares of GM at a price of $20.35 each. It brought his holdings up to 272,828 shares. He bought just less than a third of those shares on the open market with his own funds.
He bought 10,000 shares for $25.05 each in August 2011, and 30,000 shares for $31.33 each in March of that year. On Nov. 18, 2010, the day of the GM IPO, he also bought 15,000 shares in the open market for an average of $33.54, just above the $33 IPO price.
But despite posting record profits last year and recapturing the global lead in auto sales, GM shares have declined fairly steadily since that debut, losing nearly 40% of their initial value.
Shares were up 1.3% in trading Thursday.