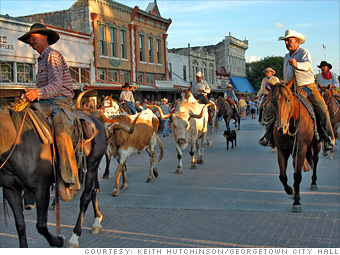 Population:
37,963
Pros:
Business friendly tax structure, entrepreneurial camaraderie, scenic suburb of Austin
Con:
Higher housing costs
Austin's entrepreneurial community may be among the strongest in the country, but its heavy traffic and urbanization have driven some experienced business folks to look elsewhere. Enter Georgetown. This suburb of Austin has transformed from a sleepy bedroom community into a city with its own identity and a rapidly growing business climate.
Located 26 miles north of the state's capital, Georgetown has welcomed 270 new businesses over the past two years. The state's lack of individual and corporate income taxes is just one reason Texas is considered business-friendly. On a local level, Georgetown charges relatively low water and electricity rates, and its property taxes are among the lowest in the region. As part of the Greater Austin area, Georgetown entrepreneurs in the city's growth industries - healthcare, life sciences, and technology - can seek out additional support from the region's business-development efforts. A convention center slated to open next year should help further build Georgetown's up-and-coming business scene.
Georgetown is considered one of the prettiest cities in Williamson County, especially during the spring and summer months when poppies and wild flowers are in full bloom. Housing costs tend to be higher than in many of Austin's other suburbs, but residents who settle into one of the city's restored Victorian homes or new Tuscan villas can enjoy a walk along the bank of the San Gabriel River or play a round of golf on one of the five local courses. Mountain biking trails around Lake Georgetown lead riders to the edge of Texas Hill Country. As the self-proclaimed "Live Music Capital of the World," Austin still offers the best selection of performing arts in the region. However, Georgetown's annual food and arts festivals, independently-owned restaurants, rodeo, and nearby wineries are enough to keep residents close to home most of the time. -Brandi Stewart
Interactive map: Georgetown, Texas


Find homes for sale in Georgetown, Texas


NEXT: 3. Buford, Ga.

Last updated July 02 2008: 11:16 AM ET
Email
|
Print
|

Digg this story
|

RSS