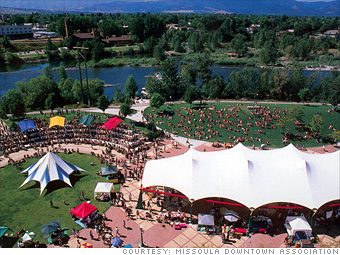 Population:
58,781
Pros:
Natural beauty, good college town
Con:
Long winters
Despite its long, gray winters and sometimes-smoky summers (due to forest fires), Missoula is so popular with relocating Californians that the price of real estate has become too high for old-timers. It's a liberal college town, home to the University of Montana, with terrific hunting and fishing and expansive mountain views. The city also has a thriving music scene.
Missoula is the hub of western Montana (with traffic to match). Logging was the town's traditional industry, but all logging ceased by the 1990s, clearing the way for new fields. The Missoula Area Economic Development Corp. runs several loan programs and offers assistance to small-business owners. Tourism is a leading local industry, thanks to Missoula's excellent recreational opportunities. The U.S. Forest Service trains "smokejumpers" - firefighters who deploy in remote locales - at its regional headquarters in Missoula. -Elizabeth Bland
The call of the mountains: Why entrepreneurs flock to mountain towns
Interactive map: Missoula, Mont.


Find homes for sale in Missoula, Mont.


NEXT: 72. Brookfield, Wisc.

Last updated July 02 2008: 11:16 AM ET
Email
|
Print
|

Digg this story
|

RSS