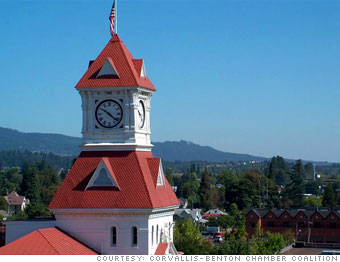 Population:
49,124
Pros:
Small and sweet - but smart and successful; very enterprising
Con:
Some people prefer the more citified feel of nearby Eugene
Corvallis is such a great place to play - with hiking, biking, river rafting and fly fishing - that it does not appear at first glance to be very industrious. But it turns out that the foggy, quirky college town - home to old hippies, Oregon State University and one of Hewlett Packard's largest U.S. sites - is a high-tech hotbed.
The Oregon Nanoscience and Microtechnologies Institute, a cooperative R&D group, is based in Corvallis, as is the Valley Venture Group (V2G, as it calls itself), an angel investment group that provides seed money, from $100,000 to $500,000, to local startups. Entrepreneurs in scientific fields can tap into an ample supply of technical workers: A recent survey by the National Science Foundation found that almost 11% of Corvallis' workforce is in science and engineering, putting it fifth in the nation for scientific employment on a per-capita basis. Environmentalists will also feel at home on Corvallis, which Country Home magazine recently placed at No. 1 on its "greenest cities in America" list. -Elizabeth Bland
Interactive map: Corvallis, Ore.


Find homes for sale in Corvallis, Ore.


NEXT: 49. Owings Mills, Md.

Last updated July 02 2008: 11:16 AM ET
Email
|
Print
|

Digg this story
|

RSS