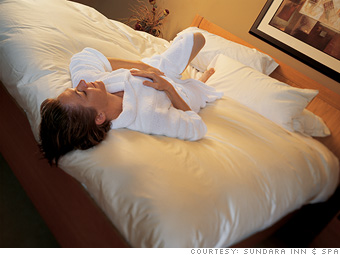 Sundara Inn & Spa
Wisconsin Dells, Wisc.
Started offering sleep treatments:
2007
What it offers:
Sundara's Dream Facial features a feather bed lining the treatment table, and ends with a 20-minute nap.
Sundara Inn & Spa Communications Manager Carla Minsky describes the Sundara Sleep Experience as a "goldmine" - not only for the spa, but also for its customers.
"We have these sleep journals," Minsky says. "It's sort of amazing what people write in the sleep journals about those beds."
The Sundara Inn's 26 suites feature Pacific Coast Feather Company featherbeds, comforters and pillows. The line, a signature offering at the resort since its opening in 2003, proved so popular with clients that the spa now offers Pacific Coast Feather's products for sale to its clients for use on their beds at home.
Sundara is also integrating sleep into more of its spa offerings: The 20-minute power nap at the end of its facials, introduced last year, is such a hit that Sundara is considering adding the nap to its most popular spa treatment, massages.
"Rather than quantitative research or focus groups, we turn to our guests," Minsky says. "The spa staff is really good at sharing what the guests tell them, and we also turn to the sleep journals for feedback."
Price: Dream Facial costs $180 Monday through Thursday and $190 from Friday to Sunday.