Visualization, now and at home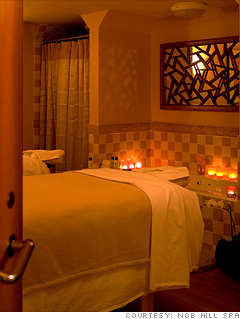 The Huntington Hotel & Nob Hill Spa
San Francisco
Started offering sleep treatments:
2007
What it offers:
"Guided Imagery for Renewal of Mind, Body & Spirit"
The Nob Hill Spa's "guided imagery" treatment is an add-on upgrade to its massage offerings. Developed in conjunction with imagery expert Dr. Martin Rossman and Emmy award-winning composer Gary Malkin, the session combines spoken-word visualization guidance and background music to coax clients into a deep state of relaxation. The spa has also developed a companion CD, so guests can relive the experience at home.
The guided-imagery massage was created especially for perpetually stressed-out people like entrepreneurs, says Nob Hill Spa Director Jenean LaRoche.
"It's for when you're getting ready to go to sleep and your mind still keeps working," she says. "When clients come rushing in with their BlackBerry still going off, and they're running down stairs and hopping on the table - their mind is still really engaged. The guided imagery helps them to calm down."
Clients leave with a copy of the spa's CD, which has tracks for 50 minutes of relaxation and for a 15-minute quick hit, for use when listeners don't have an hour to set aside.
LaRoche says the unorthodox spa offering often prompts puzzled questions.
"It's something that is kind of new for some people, so it requires a little bit of explanation," she says. "Since we started, we've had few hundred people do the treatment. It's popular enough that we're keeping it on our menu."
Price: The Guided Imagery Massage is offered as a treatment upgrade (a $25 addition to a $120 50-minute massage, with the take-home CD included).