Diet, exercise - and sleep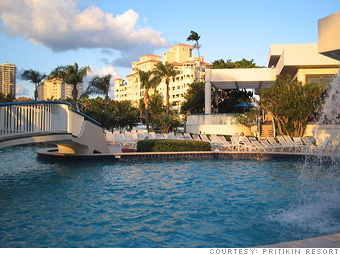 Pritikin Longevity Center and Spa
Aventura, Fla.
Started offering sleep treatments:
Pritikin has incorporated sleep treatments into its offerings for years, but in June, it formalized its program and began offering a "level 1" sleep diagnostic.
What it offers:
The Pritikin sleep evaluation program includes surveys, workshops, consultations and lab work.
The Pritikin approach is a "complete lifestyle change program," says Pritikin Associate Medical Director Dr. Tom Rifai - and since "everything is interconnected," sleep remedies are a core part of the Pritikin experience.
The Pritikin Longevity Center and Spa's visitors come to immerse themselves in the diet-and-exercise system created by Nathan Pritikin in the 1970s. Opened in 1976, the Pritikin Center began ramping up its sleep treatments in the last few years in response to data showing increased mortality and other risks from sleep apnea. While Pritikin's clients usually come to treat issues other than insomnia, Pritikin's medical staff felt their efforts to address customers' primary heath issues would be unsuccessful if they did not also tackle any sleep problems.
Every Pritikin guest gets a sleep screening questionnaire upon arrival. For clients that want to learn more about optimizing their sleep, Pritikin offers a sleep evaluation program, with an educational component that features weekly workshops, one-on-one consultations and lab work. In June, Pritikin started to conduct "level 1" sleep studies, a medical diagnostics regime that includes an EEG (Electroencephalography) "brain wave" screening for parasomnia, sleep apnea and restless leg syndrome.
"Sleep is such a major player in the issues that people have come to Pritikin to address [that] they're less likely to have true success if we don't address sleep," Rifai says.
Price: One-on-one sleep consultations, surveys, lectures/workshops, and lab work are built into the initial cost of the Pritikin program, which varies depending on how long a guest stays. The level 1 sleep study costs $1,852; health insurance often covers some of the cost.