Demand for personal financial advisors is projected to grow a whopping 41% between 2006 and 2016. Which other careers on Money and PayScale.com's list of America's best jobs will see big opportunities?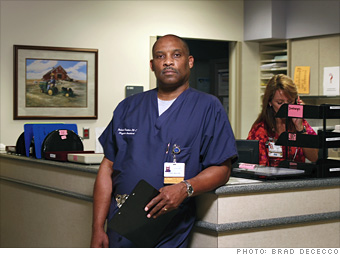 Robert Wooten is a physician assistant at Forsyth Medical Center in Winston-Salem, N.C.
10-year growth: 27%
Current total employment: 82,000
A shortage of general physicians is spurring the need for physician assistants, who function much like regular doctors and work in a wide range of medical areas, from ER and surgery to dermatology and pediatrics. The drive to cut health-care expenses is also boosting demand, along with the need to treat an aging population and fight costly chronic conditions such as obesity and diabetes.
NEXT: Computer/Network Security Consultant
Last updated October 12 2009: 5:03 PM ET
Note: We looked at jobs from the top 100 with the highest 10-year growth rate. When there were multiple job titles from the same category, we selected the job with the highest current total employment.