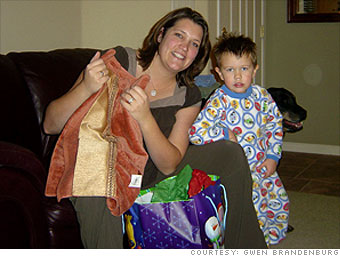 Gwen Brandenburg, 32, with her son, Cody.
Location: Reno, Nev.
Profession: Technology consultant
Tip: Use the crisis to create a clean slate.
I am optimistic because:
"My husband and I are feeling the effects of the current economic crisis, and yet we are very optimistic. My husband was laid off in November from a small business and has been unable to find a job to replace it. We have a 3-year-old son who was in pre-school, but now he stays home with Daddy.
Prior to being laid off, my husband began an online bachelor's degree program and has continued to work toward his degree. Luckily, he was in the Marine Corps. for six years, so he is able to receive the GI Bill for school expenses. He's going to school so he can come out of this rough time with even more skills for the job market.
We've realized that we don't have to spend a lot to enjoy life just as much. I was lucky enough to have parents who were very frugal yet very happy. It's a very positive approach to our lives. When we put out positive energy, we get positive things in return. We've found some bargains on groceries and professional clothes, and we work hard to conserve fuel. We now think through every financial decision.
It can be hard sometimes, but the reason I'm optimistic is because these difficult times should teach us a lot of lessons. As we rebuild our economy, we have the opportunity to build healthier financial foundations, based upon good spending habits and living within our means.
As a nation, we have the opportunity to make positive new choices about things like clean energy and a more efficient infrastructure. As awful as it is to see people suffer, we can use this crisis to build a stronger foundation for our future and for our children if we choose to do so."
NEXT: Brandi Shigley