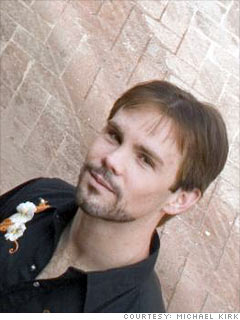 Michael Kirk, 30, is using the downturn to follow his dreams.
Location: Atlanta
Profession: Co-owner, Nature's Garden Delivered
Tip: Let change create opportunity.
I am optimistic because:
"In Colorado I certainly felt the brunt of what's happening across the country. When I lived there, I wore many hats at a small organic produce company, dabbling in a bit of everything. I was laid off, and it threw me for a loop.
I did the unemployment thing for a few months, and I knew I needed to reevaluate what I was doing. I had a townhouse with a $1,000 mortgage, but no paycheck; I had to do something. Fortunately, I was able to sell the home - but for a loss.
I picked up and moved to Atlanta with a business plan to create my own organic produce home-delivery service. Those types of companies are popular on the West Coast and Colorado, and I took a huge chance to make it work on this side of the country.
It helped that in my last job I talked to similar customers on a regular basis, and I knew how giddy people were about their delivery each week. I had an inside view on the mindset for that particular niche. Atlanta is one of the fastest-growing cities in the country, and no matter how crazy our lives get we still need food. The product sells itself.
Business couldn't be better. We've been adding three new customers a day for the past month. Our advertising approach is grass roots: fliers, message boards, online forums.
In a recession, things change. But changes create opportunity. That's where I got the inspiration for the business. Of course I went through a lot of uncertainty and instability, but by making a clear decision, I created my own opportunity.
Commit to something and put all your energy into it. Trust it. I know that'll be a hard sale for some people, but I'm advocating the power of positive thinking. Be grateful for the good things you do have. We create our own situations in life.
I've always possessed a willingness to deal with a bit of uncertainty. Some people are more security-oriented, and I can understand that. We all have some ability to embrace change, though; even if you have a great job and the economy is stable, nothing is really ever stagnant."
NEXT: Dan Catlin