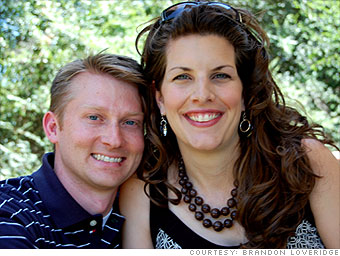 Brandon Loveridge, 29, with his wife, Heather.
Location: Winder, Ga.
Profession: Accountant
Tip: Start a debt snowball.
I am optimistic because:
"My wife and I are optimistic about the future for two great reasons.First, we decided in June 2007 to start living a debt-free lifestyle. We read "Dave Ramsey's Total Money Makeover," and since then we have been on a mission to completely eradicate debt from our lives.
By March 2009, we will have paid off $27,000 in auto, student and personal loans. We'll then get to start paying ourselves every month for an emergency fund, vehicles, etc.
Second, shortly after we decided to live debt-free, we decided to live on one income. My wife, Heather, is a writer/editor, and she does work on a contract basis. Her paychecks sometimes bounce when her small-business employers run into cash flow problems.
Right after we made that decision, I lost my job as senior accountant at a motor-sports company. However, I was blessed to find another accounting job that paid 30% more and offered a generous year-end bonus. With this move, my wife's income became completely discretionary. We've used it to pay cash for vacations to Florida, furniture and new wood floors.
We see the current economic climate as an opportunity for people to reassess the dangers of debt and to reevaluate the necessity of saving and living within a budget.
We're saving aggressively, but we still get to enjoy some things. We bought some horses and are saving to obtain some property for them. We'll send our sons Carson, 4, and Blake, 8 months, to private school, which is nice.
For folks with a pile of debt, make a budget based on what you actually make. Live on that. Then start the debt snowball: begin with the smallest and pay as much as you can. Even if it's a tiny debt, there's a psychological benefit to paying it off completely. Focus on discipline and delayed gratification."
NEXT: Sharon Wilson