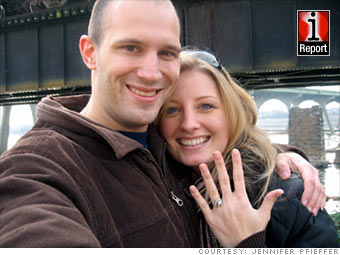 Location: Richmond, Va.
Wedding date: June 23, 2009
Most difficult compromise:
Guest list
"Two years ago, I never would have expected I'd have an `intimate' wedding. I was living well above the norm for a 24-year-old, as an account manager for a wholesale mortgage lender. My fiancé, Bryan, and I worked together and we were happily living in Northern Virginia.
We drove sports cars and took trips to New York City on a whim. I had no problem dropping what most consider a week's paycheck on a Coach purse. Money just wasn't an issue.
That all changed in February 2007 as the housing bubble burst and the foreclosures began. Gone were our bonuses and overtime pay. In August 2007, we were both laid off. We said goodbye to our former lives and moved to the more affordable Richmond. We were blessed to find jobs five months later.
A year later, we're engaged, planning a wedding and moving into a new townhome (thanks to his parents and my 401(k) from my former life). I'll be the first to say that I've dreamed about my wedding since I was five. Thanks to
Cinderella
and
The Little Mermaid
, I had planned on a royal affair.
Unfortunately, I don't have a fairy godmother. If I chose a dream wedding, we wouldn't have a roof over our heads. We set a $5,000 budget and a 30-person guest list.
How do you choose which of your closest friends and family is cut? It was heartbreaking. So Bryan and I decided it we'd invite everyone or almost no one -- and we chose the latter. Our guests will be our parents, siblings and my best friend.
The location is a dream come true (they filmed the opening scene of
Wedding Crashers
there!). The ceremony will be in a lakeside gazebo. I'm happy to have an intimate affair at sunset on a quiet lake in June with our closest family listening to our vows - and actually hearing them."
- as told to Julianne Pepitone
NEXT: Stacey Burns and Tim Wright