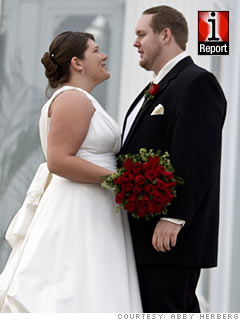 Location: Minneapolis
Wedding date: Dec. 19, 2008
Most difficult compromise:
Guest list
"We had planned on spending about $10,000 to $15,000, but as the date got closer and the word 'recession' was finally uttered, we realized we (and our parents) couldn't afford $30 per plate meals for a 250 group.
We wanted it to be a beautiful day. We wanted it to be the best day of our lives. But some things were just too extravagant to consider. We didn't want to pay for food that didn't even taste good. The chicken with rice things gets old.
Instead, we invited our closest family and a few friends for a total of 30 people, including ourselves and attendants (we had one attendant each). We had a great meal at a top notch restaurant in their private room. I think the grand total came to less than $4,000 for everything: dress, tuxes, flowers, photographer, food, drinks, judge, favors, invites, etc.
The hardest thing to give up was the number of people. It was either going to be everybody or a very small group. My husband's mother has about 20 cousins, some of whom are getting married around the same time, and they are having everyone to their weddings.
But everything about the day was awesome. Everyone who attended said they had a great time, and everyone enjoyed that it was unique. It was a beautiful day; the best day of our lives."
- as told to Larissa Padden
NEXT: Jennifer Cross and David Orosco