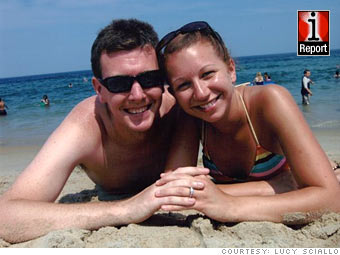 Location: Alexandria, Va.
Wedding date: Oct. 24, 2009
Most difficult compromise:
Guest list
Nathan and I were high school sweethearts, and after nearly eight years together, the idea of planning our wedding left me in a constant state of bliss and excitement. These feelings abruptly came to an end a few weeks after our engagement, when Nathan was laid off.
He quickly found a new job, but the fall of the economy led to less work for Nathan, who is an electrical engineer, which resulted in decreased income. Without the savings we planned to generate and contribute to the wedding, the idea of holding a big, traditional event seemed impossible.
If we had it the way we wanted, we would have had around 175 people, but we have gotten it down to around 130. That's the hardest part.
We have a total of $10,000 being put towards the wedding by family; the rest of the costs are up to us. We considered waiting until the spring of 2010, but reception costs increase dramatically. So we decided to stick with our October 2009 date.
I purchased my wedding gown from a pre-owned wedding dress website for half the price. I love the dress, and it was a great decision. My older sister is letting me borrow a number of items from her wedding, including veil accessories. My father enjoys gardening, so he will be planting more fall flowers and pumpkins to use as decorations for our fall reception, which will be taking place in a remodeled barn. We are sending our invitations via the Internet to eliminate paper costs.
This is the first major challenge we've faced as a couple, and we're working through it great."
- as told to Larissa Padden
NEXT: Veronica Gonzales and Daniel Olivo