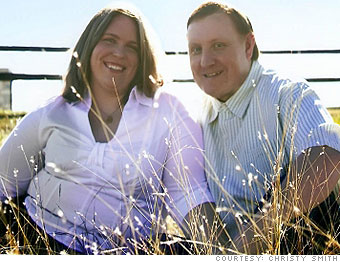 Location: Wylie, Texas
Wedding date: March 14, 2009
Biggest splurge:
Location
"We started planning our wedding last July, before the economy really went downhill. We locked down contracts with the chapel and a makeup artist, and now I wish I hadn't committed to those.
This is my second wedding, and I did my own makeup and hair then. I decided to bring in a professional this time. And we could have probably spent less than $1600 on the chapel and reception.
But other than that, we hunted for deals and haggled on everything. We did our own invitations for 100 guests, and I searched Craigslist for my dress, photographer and makeup artist. We bought both rings on final-discount sale - less than $300 for both.
The rehearsal dinner will be a local bowling alley for about $15 a person, and a friend is making the wedding cake as a gift. Overall, I believe we will spend just under $4,000.
I'm disappointed because I wanted to have an extravagant weekend for my friends. Most people in my wedding party don't make as much money as I do, and I wanted to have a fun morning before the wedding: manicures and breakfast before going to the chapel. And now we're just going straight to the church.
We try to keep it lighthearted and remember what the day's about. Five years from now, no one remembers what we actually did at the wedding.
Our main goal was to have our wedding and a small honeymoon cruise without borrowing money from our parents, taking out a loan, or otherwise creating financial hardship for ourselves. With just a month to go before the big day, everything is paid for and we are nervously looking forward to it."
- as told to Julianne Pepitone
More galleries