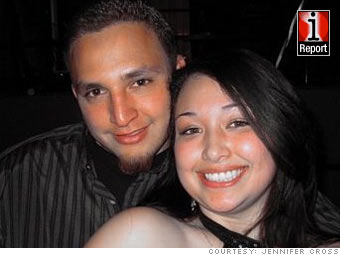 Location: Stockton, Calif.
Wedding date: September 2009
Most difficult compromise:
Wedding dress
"We're very fortunate to be in careers that are relatively unaffected by the slumping economy. We've been able to save the money for this wedding according to schedule - but we're adjusting just in case.
My fiance comes from a large Hispanic family, so we had a 250-person guest list. I'm Filipino, so I understand that the wedding is an important moment to share with family.
But you need to go through a checklist of sorts. How close have you been in the past two years? Will this person be in our lives? Will they be there for our kids? We're spending $50 a person, so you need to ask these questions. We've cut the guest list to 190.
I'm doing the flowers myself, which will save nearly $1,500. Alcohol was a tough consideration, because we wanted our friends and family to have fun. We were going to do a cash bar, but that seemed tacky. So we're doing an open bar with a themed cocktail: we each pick a drink and those are free. Or maybe we'll a three-hour open bar.
The wedding gown is important to me, but we had to cut the budget to $900. I paid almost that much for my prom dress.
I've been subscribing to every contest and visiting local bridal fairs. I won a $4,000 photography package and a bridal bouquet.
It's tough, because my fiancée proposed to me the most amazing way: He had a dolphin bring me a buoy that said "Will you marry me?" And he formally proposed on a beach. He wants to do something equally luxurious for the wedding.
But I feel a sense of accomplishment knowing that we're being mindful of the money that we're spending on this day instead of spending a seemingly endless amount, as some others do."
- as told to Julianne Pepitone
NEXT: Lucy Sciallo and Nathan Tyler