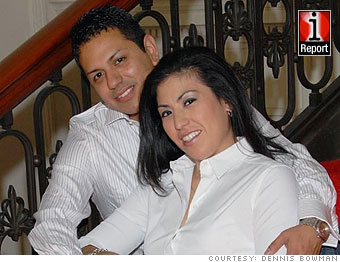 Location: Dallas
Wedding date: April 11, 2009
Most difficult compromise:
No honeymoon
"A few months ago, we had it made. We owned our home and had both received promotions. So we decided to go to Florence, where we were engaged.
That was May 2008. Now, two months before the big day, the wedding is planned: 225 invitations have been mailed, 450 guests are expected....and both of our incomes have been slashed in half.
We had budgeted everything based on our previous salaries, when we could afford the $10,000 wedding of our dreams.
Luckily, I'm thrifty and we've been making it work. So far most vendors are paid in full - we only lack about $3,000 due on the wedding day for some outstanding balances, server tips, and day-of expenses. Since we'd been saving, we have the money set aside.
We didn't skimp on our appearances. Danny's Calvin Klein suit was about $750, and I've had monthly facials for the past half-year.
But mostly, we've had to make cuts. Instead of a sit-down dinner, we're having a buffet donated by family. I hate that we're serving with nice plastic instead of silverware, but what can you do?
And this means no honeymoon. We were planning a cruise to the Greek Isles. I was to be whisked away to the airport in my gown and board a plane to cheers of congratulations and champagne.
Oh well. I've been waiting to marry Danny since I was 12. The honeymoon will have to wait.
To know that we are throwing the party of the year gives me the strength to look forward to my wedding day --a reprieve from the gloom of the mailman approaching with bills and bad news."
- as told to Julianne Pepitone
NEXT: Christy Smith and Adam Wallace