The average cost of a wedding fell $6,000 last year as brides confronted a deepening recession. We asked readers to share their economy-induced wedding jitters.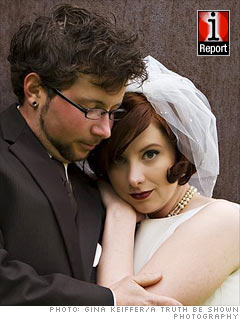 Location: LaPorte, Ind.
Wedding date: Nov. 3, 2007
Biggest splurge:
Photography
"The wedding I planned was nothing like I had dreamed, but in the end, I couldn't be happier about it.
About six months before the wedding, I lost my job. Our car broke down. We had medical expenses. It was all of those unforeseen troubles that every couple experiences.
We got married on Nov. 3, 2007, in a small, non-traditional church, decorated only with simple candles and the smiles of the people who love us. Our reception took place in a beat-down, low key, wood-paneled VFW, so we could afford better food and live music for guests. We had to pare down the guest list, including all children, which was difficult because my mom is the youngest of eight.
We had no china dishes, wedding favors, centerpieces, place cards or chair covers. In lieu of a triumphant work of pastry art, we had simple cupcakes in flavors like Bavarian cream and raspberry truffle.
I'd have given up anything to have stunning photography. We spent just under $2,000, which was about 30% of our total wedding budget.
We had the wedding we could afford, and we started our marriage without wedding debt. We didn't have enough money for a honeymoon, but we have a beautiful home with a huge backyard.
My wedding day was nothing like that of my dreams; it was better. I can remember every detail, because we focused on making our wedding about us and about who we are.
- as told to Julianne Pepitone
NEXT: Jennifer Pfieffer and Bryan Atkins