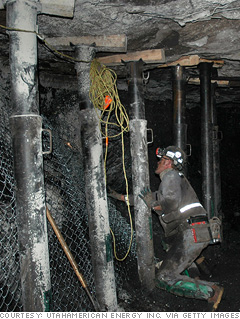 2008 fatality rate:
34.8 per 100,000 workers
The fatality rate among miners, especially those working in coal shafts deep underground, varies from year to year. A single mining disaster, like the one that happened this week in West Virginia, can add dozens to the death toll in little more than an instant. Nearly as many coal miners have died already this year than in all of 2008.
Miners work under conditions where shafts and tunnels can cave in or flood and ventilation can fail. And there's always the possibility that poisonous or incendiary gases, freed by the mining process, can overcome workers or explode. Equipment can catch fire.
Coal mining has gotten safer over the past 30 years, according to United Mine Workers spokesman Phil Smith, but much of the reduction in fatal accidents is because production has shifted above ground to strip and mountain-top-removal mining.
Coal is inherently more dangerous than metal mining, said Smith. "Metals aren't explosive, they don't liberate methane when you mine them and the dust doesn't catch fire."
NEXT: Roofer
Last updated April 08 2010: 3:39 PM ET
Source: Source: U.S. Department of Labor's Mine Safety and Health Administration report.