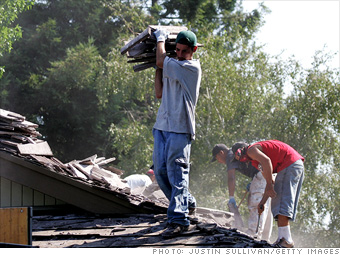 2008 fatality rate:
34.4 per 100,000 workers.
Elevation and incline add up to danger for these particular construction workers.
Roofers mostly use both hands to work, holding shingles in place with one hand, for example, while hammering nails with the other. That means they must rely on balance to stay perched.
Roofers work on a wide variety of jobs as well, from big union operations that are well managed and relatively safe, to small contracting work that may cut corners on safety and hire less experienced workers, who may not know how to protect themselves as well.
NEXT: Deliveryman and truck driver
Last updated April 08 2010: 3:39 PM ET
Source: Source: Bureau of Labor Statistics