Unemployment sweeps nation
Deepening recession prompts firms to slash jobs. Rising unemployment in all states and D.C. in December wreaks havoc on state funds and budgets.
Map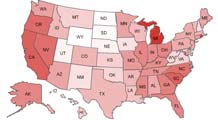 NEW YORK (CNNMoney.com) -- Unemployment spiked in all states nationwide in December for the first time as companies shed hundreds of thousands of positions, federal data released Tuesday shows.
All 50 states and the District of Columbia recorded unemployment rate increases compared with the previous month and the year prior period, the Bureau of Labor Statistics of the U.S. Department of Labor reported.
The report marked the first time every state recorded a rise in monthly unemployment since the bureau began keeping such records in 1976.
"It's been very widespread across the country," said Tom Nardone, assistant commissioner for current employment analysis at the bureau, of the job losses.
Michigan and Rhode Island once again led the nation with the highest jobless rates at 10.6% and 10% respectively. Rhode Island's rate is the highest in more than three decades.
Wyoming had the lowest unemployment rate, at 3.4%, followed closely by North Dakota, at 3.5%. Both these states saw their rates inch up 0.2 percentage points, which the bureau does not consider statistically significant.
Jobs are disappearing at a rapid pace. Indiana and South Carolina recorded the largest monthly unemployment rate increase, at 1.1 percentage point each, while six other states had 1 percentage point jumps.
Several states saw their unemployment rates spike from a year ago. Idaho's rate jumped to 6.4%, from 2.7%, while Rhode Island's climbed to 10%, from 5.2% a year earlier.
Florida is another state that's had a rapid reverse of fortune. The Sunshine state had led the nation in job creation earlier this decade, but has now seen its employment market shrivel. The state's rate jumped to 8.1% in December, up from 7.4% a month earlier and 4.5% a year ago. It's now tied with Georgia for 10th highest unemployment rate in the nation.
"Virtually all industries are losing jobs except education and health care," said Rebecca Rust, Florida's chief economist.
The national unemployment rate rose to 7.2% in December, up from 6.8% the previous month and from 4.9% a year earlier.
More pain is in store in January. On Monday alone, companies announced more than 71,000 job cuts, bringing the total this year to more than 200,000.
Businesses in many fields with locations globally are downsizing. Home Depot (HD, Fortune 500) said Monday it would shed 7,000 positions, while Texas Instruments (TXN, Fortune 500) announced it was eliminating 3,400 jobs. Dutch financial firm ING, which has operations in the United States, said it would get rid of 7,000 positions.
Nearly 2.6 million jobs were lost during 2008, the highest yearly total since 1945.
President Barack Obama is pushing for quick passage of an $825 billion package he hopes will stimulate the economy and promote job growth. The infrastructure projects are being billed as creating three to four million jobs.
"Just this week, we saw more people file for unemployment than at any time in the last 26 years, and experts agree that if nothing is done, the unemployment rate could reach double digits," Obama said Saturday. "If we do not act boldly and swiftly, a bad situation could become dramatically worse."
However, some critics say the bill will not do enough to reverse the spike in unemployment.
"There is too much wasteful spending and the plan in our view won't do what it is intended to do -- create jobs and preserve jobs in America," said House Minority Leader John Boehner, R-Ohio.
Unemployment trust funds suffer
Swiftly rising unemployment claims are wreaking havoc on state unemployment trust funds. These accounts, which are funded by taxes levied on employers, are running dry.
Four more state funds -- Indiana, New York, South Carolina and Ohio -- have become insolvent in the last four months, according to a forthcoming report from the National Employment Law Project. They join Michigan in borrowing from the federal government to continue paying benefits.
Another 13 states are at "major risk" of insolvency, up from eight in September, according to the advocacy group. These states have eight months or less of average monthly benefits in their trust funds. These include: New Jersey, California, Kentucky, Missouri, Wisconsin, North Carolina, Rhode Island, Arkansas, Pennsylvania, Idaho, Minnesota, Connecticut and Illinois.
Some experts predict up to 30 states could see their funds become insolvent this year if the recession deepens.
While the jobless in these states will continue to get benefits, there are serious ramifications to having insolvent funds. State legislatures must bring the funds back into balance, which means either cutting benefits or raising taxes on employers. Neither option is palatable during a recession.
Faced with these funding shortfalls, states may make it harder for to collect unemployment. For instance, they might raise the minimum earnings needed to qualify for benefits or exclude certain groups, such as those seeking part-time work.
"It puts a lot of pressure on insolvent states to cut down on their eligibility criteria or increase disqualifications," said Rick McHugh, staff attorney at the National Employment Law Project.
Many states are loathe to put more pressure on employers at a time when their operations are already suffering. Companies aren't as quick to hire new workers if they have to pay higher unemployment taxes on each one, experts said.
"It does tend to slow down their rehiring," said Richard Hobbie, executive director of the National Association of State Workforce Agencies.
States may get a little relief in the stimulus package, which calls for temporarily waiving interest payments on federal loans to state unemployment trust funds. The rate is currently around 4%.
State budget woes
When people lose their jobs, they pay less in personal income taxes to their states. This -- combined with declining corporate tax payments and lower sales tax revenues -- has left many states scrambling to contain growing budget gaps.
At least 45 states faced or are facing shortfalls in their budgets for this and/or next year, according to the Center on Budget and Policy Priorities. Combined budget gaps for the remainder of this fiscal year and state fiscal years 2010 and 2011 are estimated to total more than $350 billion.

Features

These Fortune 100 employers have at least 350 openings each. What are they looking for in a new hire? More

It would be the world's second-biggest economy. See how big companies' sales stack up against GDP over the past decade. More