California delays $3.5B in payments
Gov. Schwarzenegger's Golden State is in a world of pain. Now it can't meet its obligations to taxpayers, vendors and others until a budget deal is reached.
Map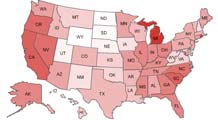 NEW YORK (CNNMoney.com) -- Running short of cash, California has started delaying $3.5 billion in payments to taxpayers, contractors, counties and social service agencies.
With the governor and state lawmakers locking horns on resolving California's budget crunch, the controller Monday halted checks covering these obligations so the state could continue funding its school system and making its debt payments.
The delay will inflict more pain on the already sorry condition of the Golden State, which is facing a $40 billion budget gap. People won't have tax refund money to spend, businesses won't get paid for their services and agencies won't have funds to help the needy until the budget situation is addressed.
Nearly $2 billion in personal state income tax refunds are being held up, according to state estimates. Last year, some two million Californians received refunds in February.
"People are going to be hurt starting today," said Garin Casaleggio, a spokesman for Controller John Chiang.
Also on hold are $515 million in payments to the state's vendors and $280 million to help people with developmental disabilities. Other public assistance agencies will be left waiting for hundreds of millions of dollars.
Gov. Arnold Schwarzenegger and legislative leaders are behind closed doors trying to hammer out a solution to the state's budget crisis, which also includes a $15 billion budget deficit for 2008-2009 and a projected $25 billion gap for 2009-2010. The governor has proposed draconian spending cuts in virtually every department, as well as hefty tax increases, to close the widest deficit in its history.
California not alone in feeling pain
California, the world's eighth largest economy, is not alone in its budget troubles. Some 46 states face budget shortfalls, forcing them to slash funding for many services.
But California, the largest state in the union by population, faces a deficit that totals more than 35% of its general fund.
Some 257,400 jobs in the Golden State evaporated in 2008, pushing the unemployment rate up to 9.3% in December, the fourth highest nationwide. Its median home price plunged nearly 50% since the spring of 2007.
Meanwhile, the demand for assistance has risen. The number of Californians receiving food stamp benefits increased by 13.8% for the year ending September 2008, while the number of families receiving cash assistance from the CalWORKs welfare program rose by 5.9%, according to the California Budget Project.
The state's fiscal troubles largely stem from its heavy reliance on personal income taxes. This revenue stream dries up when recessions hit and unemployment soars. California also never fully recovered from the dot-com bust. So the state didn't have large reserves to fall back on when the bottom fell out of the economy.
"We went into this downturn in a very weak position," said Jean Ross, the California Budget Project's executive director.
On top of its economic troubles, the state is also coping with a near shutdown of the nation's government bond markets, which had allowed it to borrow to cover its short-term debts. This fall, the state was only able to borrow half of what it needed to see it through the fiscal year.
The lack of access to the bond markets prompted the state in December to suspend funding for more than 2,000 infrastructure projects, leaving many people and businesses without much-needed work.
And because of California's financial woes, credit rating agencies are taking a dim view of the state. Moody's warned in mid-January it might downgrade California's general obligation bond rating because of its budget and liquidity problems. If this happens, it will become even costlier for California to borrow.
Deep cuts and steep tax increases
To shore up California's budget, the governor wants to slash spending by $17.4 billion, according to the California Budget Project. Included are cutting $7.7 billion from public education, eliminating dental and other benefits for adults on Medicaid and requiring state workers to take two unpaid days off per month.
Schwarzenegger is also looking to boost revenue by $14.3 billion and borrow $10 billion more. He wants to raise the state sales tax by 1.5 points - to 8.75% - through the end of 2011 and hike alcoholic beverage taxes by a nickel a drink.
"The truth is that California is in a state of emergency," Schwarzenegger said in his State of the State address on Jan. 15. "The $42 billion deficit is a rock upon our chest and we cannot breathe until we get it off."
Even after state officials hammer out a deal, payments may not start flowing right away, Casaleggio said. It hinges on the details of the agreement, as well as on how much tax revenue the state collects in January.
"It all depends on the money that's in the Treasury," Casaleggio said.
Some relief may be coming California's way. The state stands to receive billions from the $819 billion stimulus package that just passed the U.S. House of Representatives.
The state could get as much as $63.4 billion, some 12.3% of which could be used to balance the budget, according to the Center for American Progress. Some $3.6 billion could go for highway construction and transit improvements, restarting some of the projects currently idling. California will also receive billions to pay for education, Medicaid and other benefits.

Features

These Fortune 100 employers have at least 350 openings each. What are they looking for in a new hire? More

It would be the world's second-biggest economy. See how big companies' sales stack up against GDP over the past decade. More