Stocks fall despite rescue
Dow ends at 3-month lows, with Wall Street sliding even as President Obama signed into law the $787 billion economic stimulus plan.
Ali Velshi & the CNN Money Team take on the dismal February jobs report. How will the job market recover?
Friday at 11 p.m. ET
Map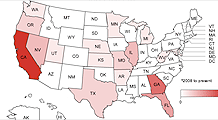 NEW YORK (CNNMoney.com) -- Stocks tumbled Tuesday on fears that the government's efforts to slow the recession won't be sufficient - even as President Obama signed the $787 billion economic stimulus bill into law.
The Dow Jones industrial average (INDU) fell nearly 298 points, or 3.8%, ending just above the bear market closing low of Nov. 20, 2008.
The Standard & Poor's 500 (SPX) index lost almost 38 points, or about 4.6% and also touched its lowest point since Nov. 21. The Nasdaq composite (COMP) lost 63 points, or about 4.1%. The Nasdaq has performed better than the rest of the market and has held above its bear-market lows.
Wall Street retreated last week and resumed the selloff Tuesday. All financial markets were closed Monday for Presidents Day.
"There is a continuing concern about the economy, what steps are being taken to right it, and how effective those steps are going to be," said Timothy Ghriskey, chief investment officer at Solaris Asset Management.
He said that concerns about the banking sector remained, in the aftermath of last week's badly received bank bailout plan. Additionally, investors were concerned about the automakers as Chrysler and GM (GM, Fortune 500) unveiled their plans for becoming viable after receiving $17.4 billion in government aid.
After the market close, Chrysler said it will need at least $5 billion more to turn the company around, and that it will cut 3,000 jobs. GM said it needs an additional $9.1 billion and that if economic conditions deteriorate, it could increase that figure to $16.6 billion. The company also said that it will accelerate 47,000 job cuts. (Full story)
On Wednesday, the president is expected to detail a plan to modify home loans - a move seen as critical to stemming foreclosures and stemming the pace of the housing slowdown.
The plan has the potential to stabilize the market, Ghriskey said, but if it's not presented in a sophisticated way, it could send stocks even lower.
Reports on January housing starts and building permits are due before the start of trading Wednesday. Both are expected to show continued weakness.
Federal Reserve Chairman Ben Bernanke speaks Wednesday afternoon at the National Press Club in Washington, D.C. about the Fed's lending programs and balance sheet. Separately, the minutes from the last Fed policy meeting are due to be released in the afternoon
Washington: President Obama signed into law the $787 billion stimulus bill Tuesday afternoon. Both chambers of Congress approved the bill last week, largely along party lines. The package includes at least $290 billion in tax provisions, as well as billions in aid and spending.
But the signing of the bill was no surprise to investors and failed to move markets out of the recent morass.
"I think people are pretty skeptical of Congress," said John Wilson, chief technical strategist at Morgan Keegan.
"There's a real worry that the stimulus plan doesn't attack the right problems," Wilson said. "And you're seeing a follow through on the lack of details out of Geithner."
The financial sector suffered a big setback last week after Treasury Secretary Tim Geithner's bank bailout plan failed to provide the requisite detail that would have reassured investors. Bank stocks continued to plunge Tuesday, with the KBW Bank (BKX) index losing 10%.
Stock movers: Wal-Mart Stores (WMT, Fortune 500) reported lower quarterly earnings that, excluding charges, topped analysts' estimates. However, the world's largest retailer forecast first-quarter earnings that are short of forecasts. Shares gained 3.7%. Wal-Mart was the Dow's only gainer.
Dow stock GM was the biggest decliner, losing 12.8%. The financial components were also hit hard.
American Express (AXP, Fortune 500) lost 11.3%, Bank of America (BAC, Fortune 500) lost 12%, Citigroup (C, Fortune 500) lost 12.3% and JPMorgan Chase (JPM, Fortune 500) lost 12.3%.
A slide in oil prices dragged on energy stocks. Dow components Chevron (CVX, Fortune 500) and Exxon Mobil (XOM, Fortune 500) both lost more than 4%.
Trump Entertainment Resorts (TRMP) filed for Chapter 11 bankruptcy protection Tuesday, as the recession and weaker gambling revenue took a toll. Shares fell nearly 22%.
Market breadth was negative. On the New York Stock Exchange, decliners beat advancers by more than 14 to 1 on volume of 1.6 billion shares. On the Nasdaq, losers topped winners by almost 6 to 1 on volume of 2.4 billion shares.
Economy: The day's one economic report of note was much weaker than expected. The N.Y. Empire State index, a regional manufacturing report, fell to negative 34.65 in February from negative 22.2 in the prior month. Economists surveyed by Briefing.com expected a smaller decline.
Bonds: Treasury prices rallied, lowering the yield on the benchmark 10-year note to 2.65% from 2.89% Friday. Bond markets were closed Monday. Treasury prices and yields move in opposite directions.
Lending rates inched higher. The 3-month Libor rate was 1.25% Tuesday, up from 1.24% Friday, according to Bloomberg.com. The overnight Libor rate rose to 0.31% from 0.30%. Libor is a bank lending rate.
Other markets: In global trading, Asian and European markets tumbled.
The dollar gained against the euro and fell against the yen.
U.S. light crude oil for March delivery fell $2.58 to settle at $34.93 a barrel on the New York Mercantile Exchange.
COMEX gold for April delivery rose $25.30 to settle at $967.50 an ounce.
Gasoline prices decreased half a cent to a national average of $1.96 a gallon, according to a survey of credit-card swipes released Tuesday by motorist group AAA.

Features

These Fortune 100 employers have at least 350 openings each. What are they looking for in a new hire? More

It would be the world's second-biggest economy. See how big companies' sales stack up against GDP over the past decade. More