Stores that may not make it to recovery
Analysts say a lack of credit availability almost guarantees more sellers will close shop - even if consumer spending rebounds in the next 12 months.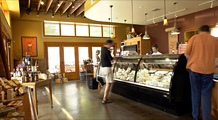 At the end of last year, five business owners struggling through the recession shared their stories of facing a make-or-break holiday season. Here's how they fared.
NEW YORK (CNNMoney.com) -- The pace of store bankruptcies will pick up -- even if consumer spending rebounds -- in the next 12 months, industry experts say.
That's because most retailers face a severe lack of credit availability, which is now almost on par with the recession as the biggest threat to merchants' survivability, according to financial advisory firm BDO Seidman.
Retailers need a lot of cash to manage their operations, such as paying rent for leased stores, buying merchandise from suppliers and paying their employees.
According to BDO Seidman's new ranking of the top risk factors facing the 100 largest U.S. retailers, the recession ranks as the No. 1 threat, up a spot from last year.
However, access to financing, which ranked No. 11 in last year's list, jumped to No. 2.
"Historically, banks have liked lending money to retailers because of their strong, consistent cash flows," said Doug Hart, partner in BDO Seidman's retail and consumer product practice. "But as consumers have stopped spending, their cash flow is under siege."
"So banks are tightening their lending to retailers," he said.
In order for retailers to improve their credit standing, Hart said sellers either have to reduce costs, leading to layoffs, or increase sales, which is dependent on consumer spending.
Different funding: As cash-flow based lending dries up, lenders are offering money to merchants in a different way, said Love Goel, chairman and CEO of GVG Capital, a private equity firm focused on the retailing sector.
"It's called ABL financing, or asset-based loans," said Goel. "Banks are looking at the real estate that retailers own or the value of their inventory."
But even in that case, merchants are being squeezed by lenders as real estate values decline and lenders push up interest rates on loans. "If when business was good you could get 75 cents to 80 cents for every $1 of inventory, now you're getting 50 cents to 60 cents," Goel said.
"If you've bought $100 million in merchandise, you can maybe get $60 million in financing instead of $70 to $80 million," he said. "Merchants are struggling to bridge the gap."
Merchants are caught between a rock and a hard place. "Not only do they badly need money that they don't have, it's much more expensive to borrow money in this environment," Goel said.
Who's at risk?: Credit rating agency Moody's Investors service said earlier this month that credit conditions will worsen for sellers in the coming months.
The agency said in a report that it currently rates about 20% of retailers at "Caa1" or lower, "indicating our view that the number of defaults in the retail industry will rise in the next 12 months as the recession deepens."
Barneys, Blockbuster (BBI, Fortune 500), Eddie Bauer (EBHI), Claire's Stores, Guitar Center, Michael's Stores and Rite Aid (RAD, Fortune 500) are among the retailers that Moody's has rated "Caa1" or lower.
Goel said this serious cash crunch will force more sellers into bankruptcy and subsequent liquidation.
Although he didn't name specific companies, Goel said regional department stores, regional sporting goods stores, jewelry merchants, furniture stores and small consumer electronics sellers -- merchants laden with big amounts of inventory -- have the greatest risk of buckling due to the economy and lack of liquidity.
"We believe the [retail] market will lose 10 to 15% of the sales supply over the next year and a-half," he said.
Goel cited the home goods market, which included now-defunct chain Linens 'N Things, as being particularly hard-hit by the sales and credit crunch.
"About 18 retailers have filed for bankruptcy in that space, resulting in $6 billion in lost supply. That's just in the last 12 months," he said.
Goel estimates that as many as two-thirds of retailers -- that includes both poorly run and well-run sellers -- are vulnerable to the credit squeeze.
"Even well-run companies can't raise money to refurbish their stores or invest in customer service," he said.
If there is a silver lining, Goel said the latest retail shakeout will sift out the laggards, making the industry more competitive in all aspects of retailing.
"When the dust settles and the economy comes back, it will solidify the winners, and consumers will be buying better merchandise from well-run merchants," he said.

Features

These Fortune 100 employers have at least 350 openings each. What are they looking for in a new hire? More

It would be the world's second-biggest economy. See how big companies' sales stack up against GDP over the past decade. More