Stocks bounce back
Wall Street advances at the start of a holiday-shortened trading week.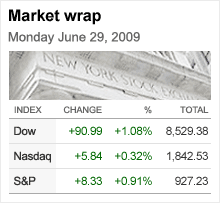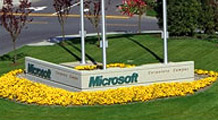 After a bleak 2008, equities are looking up. But whatever the market, our trademark long-term portfolio can help you build a nest egg for a secure future.
Bailout tracker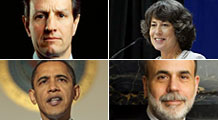 The government is engaged in a far-reaching - and expensive - effort to rescue the economy. Here's how you can keep tabs on the bailouts.
More
NEW YORK (CNNMoney.com) -- Stocks rallied Monday, with oil and technology shares leading the way as investors scooped up shares hit in the recent retreat, at the start of a holiday-shortened trading week.
Also in focus was Bernard Madoff, who was sentenced to the maximum 150 years in prison for orchestrating the biggest Ponzi scheme in modern history.
The Dow Jones industrial average (INDU) added 91 points, or 1.1%. The S&P 500 (SPX) index gained 8 points, or 0.9%, and the Nasdaq (COMP) added 6 points, or 0.3%.
All financial markets are closed Friday for the Independence Day holiday weekend. Ahead of that, a slew of economic reports are due, including readings on housing, manufacturing and the labor market.
Stocks are likely to be volatile this week due to the confluence of the holiday, the heavy spate of economic news and the quarter end, said Brian Battle, vice president at Performance Trust Capital Partners.
"Trading will be thinner than usual, particularly toward the end of the week, with a lot of guys taking off early ahead of the holiday," Battle said. "It's going to be very whippy and we shouldn't pay too much attention to 100-point swings."
Stocks could benefit Monday and Tuesday from some end-of-quarter machinations as market pros look to "window dress" their portfolios before closing the books. Generally, that impact is positive as money managers look to add the quarter's big winners to their portfolios.
Regarding the Madoff verdict, Battle said that Wall Street will be relieved that he got the maximum. But he said there may be concern that the scandal will mean increased government regulation of money management.
The Dow and S&P 500 have closed lower for the last two weeks as a more than 3-month rally has lost steam. The S&P 500 had surged more than 40% on bets that the economy is close to stabilizing. But worries that stocks have risen too far, too fast have dragged on sentiment lately.
The Nasdaq inched higher last week after falling the week before.
Reports are due Tuesday on consumer confidence, regional manufacturing and home prices.
On the move: Of the 30 Dow issues, 29 rose, with Alcoa (AA, Fortune 500) the lone decliner.
Rising oil prices boosted Dow oil components Chevron (CVX, Fortune 500) and Exxon Mobil (XOM, Fortune 500). Other big Dow gainers included Boeing (BA, Fortune 500), United Technologies (UTX, Fortune 500), Microsoft (MSFT, Fortune 500), Hewlett-Packard (HPQ, Fortune 500), Procter & Gamble (PG, Fortune 500) and 3M (MMM, Fortune 500).
Apple (AAPL, Fortune 500) CEO and co-founder Steve Jobs is back on the job after a nearly 6-month medical leave, the company said Monday. Jobs is reportedly in the office a few days a week and working from home the other days.
Enterprise Products Partners (EPD) is buying fellow energy company Teppco Partners (TPP) in a $3.3 billion deal that creates the largest U.S. publicly traded energy partnership.
Watson Wyatt Worldwide (WW) will merge with fellow consulting firm Towers Perrin in an all-stock deal valued at $3.5 billion. The combined company will be called Towers Watson.
Market breadth was mixed. On the New York Stock Exchange, winners topped losers three to two on volume of 1.07 billion shares. On the Nasdaq, decliners beat advancers seven to six on volume of 2.04 billion shares.
Bonds: Treasury prices rallied, with the yield on the benchmark 10-year note falling to 3.48% from 3.54% Friday. Treasury prices and yields move in opposite directions.
Other markets: In global trade, Asian markets ended lower and European markets ended higher.
U.S. light crude oil for August delivery rose $2.33 or 3.4% to settle at $71.49 a barrel on the New York Mercantile Exchange.
COMEX gold for August delivery fell 30 cents to settle at $940.70 an ounce.
In currency trading, the dollar fell versus the euro and the yen.

Features

These Fortune 100 employers have at least 350 openings each. What are they looking for in a new hire? More

It would be the world's second-biggest economy. See how big companies' sales stack up against GDP over the past decade. More