iPhone apps: For fun and profit?
Smartphone applications are hot, but so far they're small potatoes. Will these software programs produce an eBay or Amazon equivalent?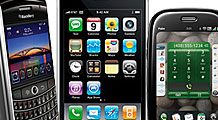 Tech competition is heating up: Google vs. Microsoft! Microsoft vs. Apple! Apple vs. Palm! Here's how the second half of '09 is shaping up.
NEW YORK (Fortune) -- A year ago this week Apple opened the floodgates and began letting software developers sell software for the iPhone, and geeks everywhere caught iPhone fever.
Since then Apple's iTunes App Store has swelled to more than 50,000 titles, logged more than 1 billion downloads, and inspired an entrepreneurial surge that's reminiscent of the dot-com gold rush -- only without the illusion that everyone is making tons of money.
In fact, aside from Apple (AAPL, Fortune 500) and AT&T (T, Fortune 500), it's hard to point to many folks that are raking in a pile of iPhone cash quite yet. Matt Murphy, a venture capitalist at Kleiner Perkins Caufield & Byers, guesses that as many as 95% of the developers building iPhone apps "aren't trying to build a company on the iPhone" -- they're just hobbyists making a little money on the side, or companies using fun iPhone apps as marketing vehicles.
The world is still waiting for the equivalents of eBay (EBAY, Fortune 500), Amazon (AMZN, Fortune 500) or Yahoo (YHOO, Fortune 500) -- the groundbreaking new companies that will redefine and inspire the mobile ecosystem.
Not that people like Murphy are discouraged. Murphy manages the $100 million "iFund," which is primarily dedicated to iPhone apps, making him the most high-profile mobile investor in Silicon Valley these days. (He hasn't handed out much investment capital yet -- Kleiner Perkins has funded just over a half dozen startups so far.) And during a recent visit to his office in Kleiner Perkins's tree-shaded headquarters on Sand Hill Road, he sounded upbeat about the iPhone's progress.
A year in, Murphy still believes smartphones will open rich new markets for software and services, much as the PC and the web did before. "It's shaping up way beyond anyone's expectations as far as I can tell -- mine, Apple's, the industry's at large."
Still, it takes some imagination to see how we get there from here. A casual observer surfing through the offerings on iTunes today could easily mistake it for a digital dollar store. Though the place is crowded with options, the app store bestseller list is dominated by 99-cent games like the Moron Test and Sally's Spa -- hardly the foundation of a new mobile economy. That stands in contrast to the more mature list of PC software bestsellers at Amazon.com, where serious titles like Microsoft Office, QuickBooks Pro and Photoshop Elements sell for closer to $100.
But there are already signs that things are changing on iTunes, and that more serious apps are beginning to command a price premium.
The best example might be Quickoffice Mobile Office Suite, a five-week-old program for creating, editing and syncing documents and spreadsheets. It's currently the most expensive title on the top 100 list at $12.99. "Good to see some of these apps emerging that aren't just going to be used five or eight times and then be thrown away," Murphy said. "What we're going to see over the next year is people wanting applications that have a bit higher engagement, that are a bit sticky."
Those applications won't all be on the iPhone. Competitors like Palm (PALM), Research in Motion (RIMM) and Google (GOOG, Fortune 500) also have their operating systems on smartphones. Murphy said given that Palm still has to prove itself and RIM has struggled to attract developers, the dark horse could be Google's Android. Major phone makers including LG, Motorola (MOT, Fortune 500) and Samsung have announced Android-based handsets due out soon. And while the first Android phone from HTC got mixed reviews for its heft and unfinished software, the newest crop is earning positive buzz.
"The notion that Android might actually start to get a lot of device penetration -- a year ago it was too early. Now I think it's an area to watch more closely," Murphy said. "I think if Android can get enough devices out there and get enough market share, then Android will be likely the second platform."
If that happens, the next year in the mobile economy could be even more dynamic than the first. And who knows -- maybe by next July, Silicon Valley will have even minted a few more mobile multi-millionaires.