Stocks: Higher week, mixed day
Dow manages gains Friday, but broader market sputters after four days of advances. Investors eye results from IBM, Bank of America, Citigroup and GE.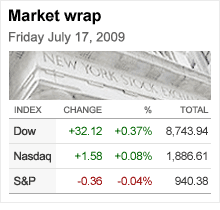 NEW YORK (CNNMoney.com) -- IBM's improved outlook lifted the Dow industrials Friday, but the broader market struggled as investors showed fatigue after a strong week on Wall Street.
The Dow Jones industrial average (INDU) gained 32 points, or 0.4%. The S&P 500 (SPX) index ended just below unchanged and the Nasdaq composite (COMP) ended just above the breakeven point.
The major gauges were on both sides of unchanged throughout the session as investors weighed the better-than-expected financial results with some reluctance after the run-up.
Stocks ended higher for the week. It was the Dow and S&P 500's first up week -- and the Nasdaq's second -- in the past five.
"Bank of America was a good surprise this morning and IBM and Google yesterday were pretty strong, but having said that, we are approaching the top of a trading range," said Tommy Williams, president of Williams Financial Advisors.
He said stocks are likely to pull back over the summer, even as the economic news improves. However, after that pullback, stocks should resume the advance.
Williams said that although conditions have not yet gotten better, they have stopped getting worse, and that's a meaningful direction.
Stocks rose Thursday after JPMorgan Chase (JPM, Fortune 500) reported a better-than-expected quarterly profit. JPMorgan joined Intel (INTC, Fortune 500) and Goldman Sachs (GS, Fortune 500), both of which reported better-than-expected financial results earlier in the week.
Stocks have risen in the first big week of quarterly financial reports, following four down weeks on Wall Street. The broad S&P 500 gained 7% for the week, recovering almost all that it lost in the previous four weeks.
Financials: Dow component Bank of America (BAC, Fortune 500) reported a profit of 33 cents per share, down from 72 cents a year ago, but five cents more than what analysts were expecting. Shares lost 2%.
Former Dow component Citigroup (C, Fortune 500) reported a second-quarter profit of 49 cents per share, surprising analysts who were looking for a loss of 37 cents, on average. Citigroup lost 55 cents per share a year ago. Shares ended little changed.
CIT Group (CIT, Fortune 500) bounced 71% Friday on reports that it is in talks with JPMorgan Chase and Goldman Sachs as it tries to avoid a bankruptcy filing. Shares fell 71% Thursday after the small business lender said it won't receive a government bailout, raising fears that the company could collapse.
CIT helps fund as many as 1 million small businesses, but a collapse of the company is not seen as a risk to the broad financial system.
IBM: IBM (IBM, Fortune 500) reported higher quarterly earnings late Thursday that topped estimates on lower revenue that missed forecasts. The tech leader also said full-year earnings would come in at $9.70 per share versus a forecast of $9.20 per share. Shares gained 4% Friday.
IBM is the most influential stock on the Dow because of its size.
Other earnings: Google (GOOG, Fortune 500) reported higher quarterly earnings late Thursday that topped estimates, largely due to cost cutting. The Internet search leader also reported tepid revenue growth because of slowing ad sales. Shares fell 2.8% Friday.
Dow component General Electric reported earnings of 26 cents per share, versus forecasts for 23 cents per share. GE (GE, Fortune 500) lost 54 cents a year ago. Shares fell 6% Friday.
Market breadth was negative. On the New York Stock Exchange, losers beat winners by a narrow margin on volume of 1.29 billion shares. On the Nasdaq, decliners topped advancers five to four on volume of 1.91 billion shares.
Economy: June housing starts rose to a 582,000 unit annualized rate from a revised 562,000 in May. Economists surveyed by Briefing.com thought starts would come in at a 530,000 unit annualized rate.
Building permits, which measure builder confidence, rose to a 563,000 unit annualized rate in June versus a revised 518,000 unit rate in May. Economists expected a 524,000 unit rate.
The report was another indication that the economy is closer to stabilizing, something the Federal Reserve alluded to earlier this week.
"It looks to me like we'll be moving from shrinking to growing by the end of the quarter," said Kurt Karl, chief U.S. economist at Swiss Re. "The housing number this morning was kind of indicative of that."
He said the building permits number was the best that has been seen all year and that it's a sign that the sector has hit bottom on the construction side.
Bonds: Treasury prices slumped, raising the yield on the benchmark 10-year note to 3.64% from 3.57% Thursday. Treasury prices and yields move in opposite directions.
Other markets: In global trade, Asian and European markets ended higher.
In currency trading, the dollar gained against the euro and the Japanese yen.
U.S. light crude oil for August delivery rose $1.54 to settle at $63.56 a barrel on the New York Mercantile Exchange.
COMEX gold for August delivery rose $2.10 to settle at 937.50 an ounce.
Talkback: Are you living on minimum wage? What would the nationwide hike to $7.25/hour mean for you? Is the minimum wage enough to live on? E-mail us your story and you could be part of an upcoming article. For the CNNMoney.com Comment Policy, click here.

Features

These Fortune 100 employers have at least 350 openings each. What are they looking for in a new hire? More

It would be the world's second-biggest economy. See how big companies' sales stack up against GDP over the past decade. More