Stocks bounce on consumer hopes
Wall Street rises after two down sessions thanks to Home Depot and Target earnings, but concerns about consumer spending remain.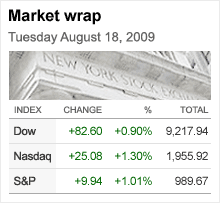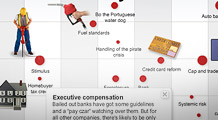 200 days in, the President is going for broke. Click for analysis of where he's succeeding - and where he's not.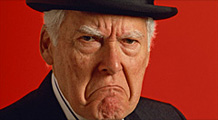 You've got a job. Good. Now keep yourself off a potential-layoff list by avoiding bad office behavior. 15 horror stories straight from the trenches.
NEW YORK (CNNMoney.com) -- Stocks rallied Tuesday after Home Depot's results and forecast and a few bright spots in the day's housing market report gave investors a reason to dip back into the market after a two-session retreat.
After the close, Hewlett-Packard (HPQ, Fortune 500) reported lower quarterly sales and earnings that topped analysts estimates.
The Dow Jones industrial average (INDU) added 82 points, or 0.9%. The S&P 500 (SPX) index rose 10 points, or 1%. The Nasdaq composite (COMP) gained 25 points, or 1.3%.
Stocks slipped for two straight sessions, with the major gauges each losing over 3% on worries that a struggling consumer could pressure an already fragile recovery.
But Tuesday brought some better news from the retail sector and investors used it as an opportunity to move back into the market, albeit on light trading volume.
"There's going to be a lot of volatility day-to-day as we try to figure out how much economic growth we're going to have," said Robert McGee, portfolio manager at CS McKee.
A weaker-than-expected consumer sentiment report Friday and Lowe's disappointing profit report Monday sparked the selling, which followed a roughly five-month advance.
But Tuesday brought better profit news from Dow component Home Depot and discount retailer Target, helping to mitigate some consumer worries. On the downside, the morning's housing market report missed growth forecasts but investors sought out some good news when it came to single-home construction.
The S&P 500 is 46% higher since bottoming March 9. Year-to-date, it's just up 9.6% as of Tuesday's close.
"I think the rally is a little ahead of what the economy and fundamentals are indicating," McGee said. "We're probably near the highs of the year and could see some give back through the fall."
Wednesday brings no market-moving quarterly results or economic news. The weekly oil inventories report from the Energy Information Administration is due in the mid-morning.
Retail: Home Depot (HD, Fortune 500) reported earnings of 66 cents per share, versus 77 cents a year ago, as the recession cut into its business. But results were better than expected and the home improvement retailer boosted its full-year earnings outlook. Shares of the Dow component gained 3% Tuesday.
Target (TGT, Fortune 500) reported earnings of 79 cents per share versus 82 cents a year earlier, topping expectations, due to cost cutting and reduced inventories. But revenue and same-store sales slipped, as consumers remained cautious. Shares gained 7.6%.
Economy: Housing starts and building permits both slipped in July, according to a Commerce Department report released Tuesday. The report surprised Wall Street economists who were looking for an improvement.
Housing starts fell to a 581,000 annualized rate in July from a revised 587,000 in June. Economists thought starts would rise to 599,000, according to a Briefing.com survey.
Building permits, which indicate builder confidence, fell to a 560,000 annualized rate in July from a revised 570,000 annualized rate in June. Economists thought it would rise to a 576,000 annualized rate.
On the upside, the report showed that single-family housing construction rose 1.7% in July, advancing for the fifth straight month and at the fastest pace since October.
A separate report showed that inflation at the wholesale level remains in check. The Producer Price Index (PPI) fell 0.9% in July after rising 1.8% in June. Economists thought it would fall to 0.3%. The core PPI, which strips out volatile food and energy prices, fell 0.1% in July versus forecasts for a rise of 0.1%.
General Motors: The automaker is boosting production in the second half of the year and bringing 1,350 of its North American employees back to work as a result of increased demand from the government's Cash for Clunkers program.
Separately, GM (GM, Fortune 500) said it made a deal to sell its money-losing Saab to Swedish luxury sports car maker Koenigsegg.
Other stock movers: Huron Consulting Group (HURN) rallied 37.6% in unusually active Nasdaq trading after the business consultant reported higher quarterly revenue and earnings that topped estimates.
American Axle & Manufacturing Holdings (AXL) rallied 117% in unusually active New York Stock Exchange trading after saying it will get up to $210 million in help from former parent GM. The auto parts manufacturer is trying to restructure its debt outside of bankruptcy court.
Market breadth was positive and trading volume was light. On the New York Stock Exchange, winners topped losers by almost four to one on volume of 991 million shares. On the Nasdaq, advancers topped decliners three to one on volume of 1.77 billion shares.
Bonds: Treasury prices slipped, raising the yield on the benchmark 10-year note to 3.51% from 3.47% Monday. Treasury prices and yields move in opposite directions.
Other markets: In global trading, European and Asian markets climbed.
U.S. light crude oil for September delivery rose $2.44 to settle at $69.19 a barrel on the New York Mercantile Exchange.
COMEX gold for December delivery rose $3.40 to settle at $939.20 an ounce.
In currency trading, the dollar fell versus the euro and gained against the Japanese yen.

Features

These Fortune 100 employers have at least 350 openings each. What are they looking for in a new hire? More

It would be the world's second-biggest economy. See how big companies' sales stack up against GDP over the past decade. More