Hired! I got my job through Twitter
When Renee Libby was laid off, she started tweeting. And two months later she had a new job.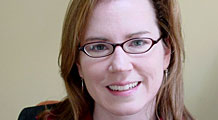 Meet some of CNNMoney.com's trusted career coaches and hear their best advice for finding a job.
jobs by

Find a Job
NEW YORK (CNNMoney.com) -- It's not just teens and celebrities using Twitter these days.
Once a forum for getting the latest dish on Ashton Kutcher or exchanging witty one-liners with friends, Twitter is now a bona fide way to find work.
When Renee Libby, 25, was laid off from her public relations position at the end of May, she decided there was only one thing for her to do: tweet.
That's because there are few better ways to build an extensive network so quickly. The micro-blogging site has over 50 million unique visitors a month and is growing rapidly.
Twitter users can search for users by entering criteria such as a name, email address or keyword.
"I started by searching for local communications professionals in the Baltimore area," Libby said.
To connect to others, users choose to "follow" them and then gain access to their tweets. Once someone receives an alert that they have a new follower, they often reciprocate.
Knowing potential employers might be looking, Libby kept the information on her Twitter page specific to her experience in communications and public relations so the people she followed would be encouraged to follow her in return.
Every hour or so, Libby would tweet about news or articles specific to the industry in Baltimore or send out links to the latest edition of her own column in a local publication.
Shortly thereafter, the director of public relations for Baltimore-based SPIN contacted Libby and suggested she start freelancing for the company, which she gladly did.
Only one week later, one of their associates announced that she was leaving. "[The director of public relations] immediately let me know that there would be an opening after she left in September. I came in, interviewed, and was offered the job." Libby started Sept. 1.
Although the title as an account executive and responsibilities are similar to her previous position, Libby says she now makes even more than she did before, "which was obviously a great bonus."
The new networking
Our career experts agree that in today's market social media, like Twitter, is an essential element of the job hunt.
Although exchanges between people are limited to messages of only 140 characters, there is plenty of opportunity for job seekers to market themselves effectively to potential employers.
"Think strategically about how you want to be viewed online. Keep your tweets professional but also interject a bit of personality," advises Barbara Safani, president of Career Solvers in New York.
"Be careful not to communicate too much," added social media expert and president of Affect Strategies Sandra Fathi. "Don't get too specific about how you got laid off or be disparaging toward your boss, be discrete about the circumstances and forthcoming about what it is you are looking for."
Further, "don't advertise who you are interviewing with," Fathi said. "If you are courting multiple job opportunities you don't want to give away who else you are talking to."
Safani and Fathi recommend that job seekers use Twitter to both spread the word about their job hunt and market themselves as someone who is knowledgeable within a certain space. "Tweet about news in your industry," Fathi said. "It can in some ways be an interactive résumé for you, to show what you are capable of."
Job seekers can also tweak their 160-character profile to highlight their job hunt and link to a LinkedIn profile, homepage or blog with a résumé, clips and contact information.
In addition, there are a variety of services associated with Twitter to help too, like TweetMyJobs and JobShouts, which sends out automatic updates of new openings in a specific field and region.
Job seekers can even target specific companies, senior executives or human resource directors by following them on Twitter.
"There's also nothing wrong with contacting an intern and saying, hey how did you get your job?" Fathi suggested.
Have you suffered a setback because of the economy? What are you doing to overcome it and get back on track? If you've been confronted with some challenge during this recession but are fighting back, send an email to realstories@cnnmoney.com and you could be profiled in an upcoming segment on CNN. For the CNNMoney.com Comment Policy, click here.

Features

These Fortune 100 employers have at least 350 openings each. What are they looking for in a new hire? More

It would be the world's second-biggest economy. See how big companies' sales stack up against GDP over the past decade. More