Grading Obama's new health care plan
The president's speech may have had a more partisan tone, but when it comes to content, he's moving toward the more moderate Baucus proposal.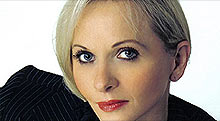 The U.S. health care system is struggling with a shortage of primary care physicians. CNNMoney.com asked readers -- especially those who are medical professionals -- to weigh in on who can help solve the problem. Here are some responses:
NEW YORK (Fortune) -- This is the eighth and final installment in a series of health-care columns by Fortune's Shawn Tully.
In his address last night, President Barack Obama struck a strident, partisan tone at times, as when he lauded the "public option" as essential to fostering competition in health care. A careful reading of the speech, however, reveals that Obama is distancing himself from the most extreme provisions of the most prominent House bill, "H.R. 3200," and embracing the more moderate proposal unveiled on Tuesday by Sen. Max Baucus (D-Mont.), chairman of the Senate Finance Committee.
The president is now backing four features of the Baucus platform that are far different from the provisions of H.R. 3200. First, he's now endorsing legislation that would cost much less than the House bill -- an estimated $900 billion versus as much as $1.5 trillion. Second, he now rejects raising taxes on wealthy Americans to pay for reform; instead, he wants to impose levies on insurance, pharmaceutical, and medical device companies. Third, he now recommends exempting small companies from paying penalties if they don't provide insurance; under the House bill, those penalties reached 8% of payroll.
And fourth, in a crucial shift considering the heated debates of recent weeks, Obama hinted that he would accept nonprofit co-ops in place of a Medicare-like system as a public option.
Overall, the speech was a mixture of pluses and minuses for Americans who don't believe that the House bill is the best way to lower costs or put consumers first. On the plus side, Obama shunned provisions that would have made health-care coverage incredibly expensive for young people, and been crippling to small businesses. On the negative side, the president still champions a system where the government -- not patients -- mandates what's included in individuals' health-care plans, and what they pay for it. The biggest danger: employers drop their plans and subsidies that now go to the middle class get channeled to low earners, imposing what amounts to a huge new tax on America's professionals.
Let's examine the speech's content more closely, grading the president on this most recent proposal, which seems to be moving toward the more centrist Baucus plan.
1. Lack of supply-side reforms
Although the president promised to enhance competition in health care, he didn't even address the supply-side restrictions that make health care the most anti-competitive industry in America. Those include state "certificate of need" laws that limit the number of hospital beds, MRI centers, and medical helicopters; a shortage of doctors perpetuated by Medicare rules that restrict the number of residency positions; and a Medicaid law that effectively blocks hospitals and HMOs from getting steep discounts on drugs.
Most of all, the president presented a weak response to a real problem: the dearth of competition among insurance providers. In two dozen states, the Blue Cross/Blue Shield giants control over 40% of the market. But instead of attacking the monopolistic laws that allow the Blues and other big insurers to maintain dominant market shares, the president swears that the only solution is a government-supported competitor.
Let's assume that Obama settles for co-ops instead of a Medicare-like system, as Sen. Baucus recommends. The Baucus proposal states that the federal government would give those co-ops "grants" for capital reserves. Unlike private insurers that need to issue bonds to raise money, the co-ops would pay no interest, and wouldn't have to repay the billions they receive. As nonprofits, they'd also be exempt from the stiff taxes private insurers pay on their premiums. As a result of government backing, the co-ops would have a big edge over their rivals in the private sector.
The Baucus proposal does contain one feature that would enhance competition: It would allow Americans who buy their own coverage to purchase insurance across state lines, beginning in 2015. That's a good start, but it begs the big question: Why not allow employers to shop for the best deals nationwide as well?
Grade: F
2. Young workers can pay their real costs
In his address, Obama argued strongly that insurers be banned from rejecting patients with pre-existing conditions. A potential problem with that policy -- known as "guaranteed issue" -- is that the young, healthy Americans may drop their insurance, then sign up years later when they become seriously ill with heart conditions or diabetes. This "adverse selection" is especially severe in states like New York and Colorado that require that everyone pay the same, or close to the same, premiums -- regardless of their actual cost. Hence, a strapping 25-year-old in New York might pay $5,500, versus just $1,500 in neighboring Pennsylvania.
The House bill would have severely limited variations in premiums, forcing young people to pay far more than their actual medical expenses. Fortunately, the Baucus bill does allow for insurers to charge the young and healthy premiums that reflect their true costs. Under this proposal, carriers would be able to charge a wide range of premiums depending on the consumer's age.
That's an extremely healthy change. Since young Americans will still benefit from low premiums in most states, they're far less likely to dump their coverage -- a big risk under the House bill.
Another positive: The Baucus bill would allow far more room for both young and middle-aged workers to buy catastrophic care insurance with high deductibles. Those policies make consumers far more price conscious than gold-plated plans do. That's another improvement over the House bill, which effectively outlawed catastrophic care policies.
Grade: B
3. A standard benefits package
Many states require rich minimum packages of benefits that can include everything from hair transplants to spinal manipulations. Medical lobbies are experts at making these lists far longer to include coverage that isn't part of basic care, but immensely swells costs. These packages prevent insurers from offering the full gamut of plans consumers want.
The Baucus proposal, like the House bill, would impose a long list of required benefits on plans that qualify to be offered through Health Insurance Exchanges. The roster (on page 3 of the Baucus plan) mandates a number of items not included in most private plans, such as vision and dental care, and coverage for prescription drugs (an extra in most policies). While it's great to have these things covered, they drive costs up significantly, and consumers would not be able to opt out of plans that offer them.
The problem is that Congress would establish minimum benefits at the federal level, so that states with few mandates would be forced to offer more coverage, inflating the cost of insurance. It would also undermine the advantage of buying insurance across state lines that the Baucus bill endorses, at least in part.
Once again, the Baucus proposal is not nearly as bad as the House bill, which would establish an independent board practically certain to add more rich benefits to the required list each year.
Grade: C
4. Pay or play
As he stated last night, the president would grant employers the choice of paying for their workers' healthcare or contributing a tax or penalty that would help fund an elaborate system of subsidies, chiefly for low-earners.
The biggest threat to all of Obamacare is that companies pick the "pay" instead of "play" option. In that scenario, under the House bill, workers earning up to around $70,000 in large companies would either get the equivalent of a raise, or break even. But professional employees earning over $80,000 would get hammered -- for the exact numbers, see my last piece, "Obamacare's winners and losers."
The Baucus platform also contains a "pay or play" provision that would impose a stiff payroll tax on employers who drop their care. The difference is that it stops paying subsidies at a lower income level than under the House plan. So it might impose an even bigger burden on middle-class earners.
So here's the real problem with Obamacare: It opens the gate to a potentially cataclysmic shift in the tax system. If employers eliminate their plans en masse, the government will essentially take back the tax break companies give employees by providing insurance -- and channel that money to low-earners and the uninsured via the payroll tax.
But the money from the payroll tax won't be nearly enough to cover these costs, for two reasons. First, the average policy will be far more costly than before because of all the new mandates, though not as costly as under the House bill. And second, the middle class will suffer the equivalent of a big tax hike. Their sticker shock could cause a strong push for a heavily subsidized public option, whether or not one is included in the new reform bill.
Hence, America will be paying two kinds of subsidies: one for the uninsured and low earners, and another for the middle class that looks a lot like Medicare. The cost will be far higher than the numbers now parading before the public. Of course, employers could keep providing care -- indeed that's what Obama is counting on. He has to. Otherwise, Obamacare is destined for major trouble.
Grade: If companies play, D; if they pay, F
Read Shawn Tully's other installments in this series:
Obamacare's winners and losers
The crazy math of health-care reform
White House drug deal won't save money
Obamacare could cost you $4,000 a year
Don't like Obamacare? Here's an alternative
Designing the ideal health care system