Stocks seen opening lower
Investors look to readings on home prices and consumer confidence.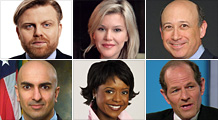 Would panic prevail? That was the question gripping the world in the days surrounding the fall of Lehman Brothers on Sept. 15, 2008. One year after that terrifying Monday, the people who struggled to cope with the financial crisis share what they were thinking as chaos broke out.
NEW YORK (CNNMoney.com) -- U.S. stocks were set for a lower start Tuesday as investors awaited readings on the housing market and consumer sentiment.
At 7:10 a.m. ET, S&P 500, Nasdaq-100 and Dow Jones industrial average futures were a tad lower.
Futures measure current index values against their perceived future performance and offer an indication of how markets may open when trading begins.
U.S. stocks rose Monday, lifted by mergers involving Abbott (ABT, Fortune 500) and Xerox (XRX, Fortune 500). The Dow gained 1.3% while the S&P 500 and the Nasdaq composite both rallied nearly 2%.
Neil Adams, a broker at MF Global in London, said the market "feels a little tired, around 98 especially," a reference to the Dow Jones industrial average closing at 9,789 on Monday. He also said that U.S. futures weren't getting much help from the "soft" trading in Europe.
"So whether we'll have a euphoric run for 10,000, I don't know," said Adams. "I think people are seeing that maybe stocks have run as long as they can until they see some concrete evidence that things are improving."
Economy: Economic reports due Tuesdau include the Case-Shiller housing price index before the opening bell. That's followed by the Conference Board's latest reading on consumer confidence at 10 a.m. ET
Companies: Dell (DELL, Fortune 500) unveiled its new high-end laptop, called the Latitude Z, late Monday.
Other stocks to watch include Walgreen (WAG, Fortune 500), which is due to post quarterly results before the opening bell.
World markets: Asian stocks finished the session in positive territory but the mood turned glum in Europe, where most shares edged lower in morning trading.
Oil and money: The dollar edged up versus most major international currencies, including the euro and the yen, but it slipped against the pound. The price of oil fell 59 cents a barrel to $66.25.

Features

These Fortune 100 employers have at least 350 openings each. What are they looking for in a new hire? More

It would be the world's second-biggest economy. See how big companies' sales stack up against GDP over the past decade. More