Stocks churn in choppy session
Wall Street struggles as investors get cautious after the recent selloff. Oil and gold prices rally, auto sales impress, Burlington Northern rallies on buyout.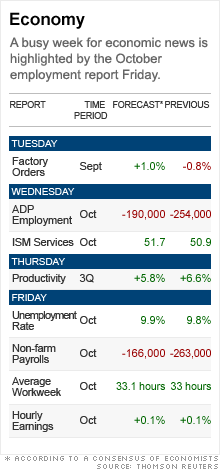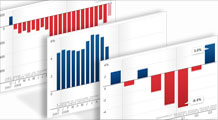 The economy has grown for five straight quarters, but there are signs that the recovery is still fragile.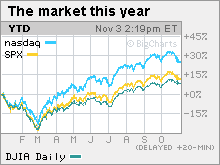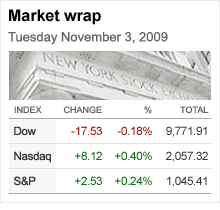 NEW YORK (CNNMoney.com) -- Stocks struggled Tuesday, ending mixed, as investors mulled improved auto sales, surging commodity prices and Warren Buffett's buyout of railroad Burlington Northern Santa Fe.
The first day of the Federal Reserve's two-day policy meeting and some bearish news in the financial sector were also in play.
The Dow Jones industrial average (INDU) lost 17 points, or 0.2%. The S&P 500 (SPX) gained 2 points, or 0.2% and the Nasdaq composite (COMP) rose 8 points, or 0.4%.
The Dow Jones Transportation (DJT) average surged 5.3% after Warren Buffett's Berkshire Hathaway (BRKA, Fortune 500) said it will buy railroad operator Burlington Northern Santa Fe (BNI, Fortune 500).
Stocks managed gains Monday at the end of a choppy session, but the selling resumed Tuesday. The S&P 500 has tumbled more than 5% over the last two weeks on worries that the massive 2009 stock rally has outpaced the still-germinating recovery.
"There's a lot of speculation right now that the long-expected correction is here, but I don't think that's true," said Tommy Williams, president at Williams Financial Advisors.
"What we're seeing is a consolidation of a market that has run too far, too fast," he said. "It may run sideways for a few weeks or even into the end of the year, but there is nothing to suggest a big correction."
He thinks the market will avoid a major drop thanks to the improving corporate and economic news, the government stimulus, and all the money idling in money market funds and low-yielding cash equivalents.
"I'm not worried that the market is going to fall apart," said Jack Ablin, chief investment officer at Harris Private Bank. "I think we're in the process of toning down expectations and understanding that a lot of what we've seen has been because of artificial stimulus."
The S&P 500 gained 63% between the 12-year low it hit on March 9 and the rally high hit on Oct. 19, as investors went from baking in a depression to a recession to an eventual recovery. Trillions in fiscal and monetary stimulus fueled the run.
Buffett buys Burlington: Warren Buffett's Berkshire Hathaway is buying Burlington Northern Santa Fe in a $44 billion cash-and-stock deal that the so-called Oracle of Omaha dubbed an "all-in wager on the economic future of the United States."
The deal involves Berkshire buying the remaining 77.4% of the company it doesn't already own for around $100 per share.
Burlington shares surged 28%.
In other merger news, Stanley Works (SWK) said late Monday that it would buy Black & Decker (BDK, Fortune 500) in a $4.5 billion all-stock deal. Stanley Works shares gained 10% and Black & Decker gained 8%.
Financials: MasterCard (MA, Fortune 500) reported higher-than-expected quarterly earnings, reversing a year-ago loss. The credit card processor also reported a higher quarterly revenue that topped estimates.
Looking forward, MasterCard said that fiscal-year 2009, 2010 and 2011 revenue growth will come in shy of the long-term objective of 12% to 15%. Shares fell 1.6%.
Swiss bank UBS (UBS) reported a bigger quarterly loss that was worse than expected Tuesday and also issued a cautious outlook. Shares fell 3.2%.
Royal Bank of Scotland Group (RBS) said it will sell its insurance unit and some branches as it receives an additional £25.5 billion, or $41.6 billion, in aid from the U.K. Treasury. RBS shares fell 5%. Lloyds Banking Group will also receive over $9 million in aid.
Initially, the banking sector woes weighed on a variety of bank shares, lowering the KBW Bank (BKX) index by 1%. But the index erased losses by the close.
Autos: Most major automakers reported that sales bounced back in October following a weak September, as more cars became available.
Among the standouts: Ford Motor (F, Fortune 500) said sales rose 3% versus a year ago, topping forecasts for a decline of 3%. Sales also jumped 21% from September.
Toyota Motor (TM) reported sales that were pretty flat versus a year ago, but that was better than the decline of 6% that analysts expected. Results were also up 21% from September.
General Motors said October sales rose 5% versus a year ago, but that was short of expectations.
Other company news: Dow component Johnson & Johnson (JNJ, Fortune 500) said it is cutting 7% of its global workforce as part of a cost-cutting plan that could save the company up to $1.7 billion by 2011. Shares lost less than 1%.
Shares were barely changed.
Intel (INTC, Fortune 500) shares slumped 2.7% after Morgan Stanley cut its rating on the company to "equal weight" from "overweight."
Federal Reserve: The central bank's two-day policy meeting got underway Tuesday, with a statement due Wednesday afternoon.
The Fed is widely expected to hold the fed funds rate, a key bank lending rate, at historic lows near zero. As always, investors will be attuned to what the Fed says about the economic outlook in its statement. The Fed could also provide hints as to when it might start withdrawing some of the trillions in stimulus it put into the system over the last year to temper the impact of the financial crisis.
The bank is not expected to boost interest rates until sometime next year.
Economy: Factory orders rose 0.9% in September after falling 0.8% in the previous month. Economists surveyed by Briefing.com thought it would rise 0.8%.
Currency and commodities: The dollar gained versus the yen and fell against the euro.
Typically, a stronger dollar would pressure dollar-traded commodities such as oil and gold, but that wasn't the case Tuesday.
U.S. light crude oil for December delivery rose cents $1.47 to settle at $79.60 a barrel on the New York Mercantile Exchange.
COMEX gold for December delivery rallied $30.90 to settle at $1,084.90 an ounce after earlier hitting an intraday record high of $1,087 an ounce.
Bonds: Treasury prices fell, raising the yield on the 10-year note to 3.47% from 3.41% Monday. Treasury prices and yields move in opposite directions.

Features

These Fortune 100 employers have at least 350 openings each. What are they looking for in a new hire? More

It would be the world's second-biggest economy. See how big companies' sales stack up against GDP over the past decade. More