Dow reclaims 10,000
Stocks surge after reports on jobless claims and productivity provide reassurance. Cisco's report and outlook helps techs. Big jobs report on tap for Friday.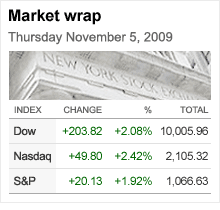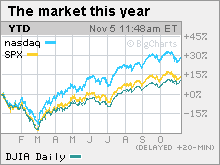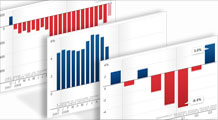 The economy has grown for five straight quarters, but there are signs that the recovery is still fragile.
NEW YORK (CNNMoney.com) -- Stocks rallied Thursday, with the Dow industrials topping 10,000, after the government reported a bigger-than-expected drop in jobless claims, and a number of retailers reported improved October sales.
The Dow Jones industrial average (INDU) gained 205 points, or 2.1%, closing at 10,005.96. The Nasdaq composite (COMP) climbed nearly 50 points, or 2.4%.
Both the Dow and Nasdaq saw the biggest one-day percentage gains since July 23.
The S&P 500 (SPX) gained 20 points, or 1.9%.
"Today's big news was that we saw fewer claims for unemployment benefits," said Mike Stanfield, chief investment officer at VSR Financial Services. "That suggests that the underlying economics are continuing to improve."
He said that this was reassuring to investors following several weeks of concerns about the pace of the recovery. It was also encouraging for investors ahead of Friday's monthly employment report.
Stocks have been volatile over the past three weeks, with the S&P 500 losing 5% through Wednesday's close on worries that the rally has gotten ahead of the recovery. Between March 9 and the peak on Oct. 19, the S&P 500 gained 63%.
Stocks ended mixed on Wednesday after the Federal Reserve held interest rates steady at historic lows near zero -- and said it will keep them low for an extended period.
The issue for markets is whether there have been enough positive developments of late to give stocks another leg up, Stanfield said. He said he thinks that the next leg up could be delayed, and that stocks are likely to churn in a range for the next six months or so. After that point, investors will have a better sense of how the economy is doing without the benefit of trillions of dollars in government stimulus, which many credit for the 3.5% rise in GDP in the third quarter.
Gains were broad based, with all 30 Dow issues rising, led by Boeing (BA, Fortune 500), Caterpillar (CAT, Fortune 500), Chevron (CVX, Fortune 500), Exxon Mobil (XOM, Fortune 500), IBM (IBM, Fortune 500), JPMorgan Chase (JPM, Fortune 500), Procter & Gamble (PG, Fortune 500), 3M (MMM, Fortune 500), United Technologies (UTX, Fortune 500) and Wal-Mart Stores (WMT, Fortune 500).
Market breadth was positive. On the New York Stock Exchange, winners beat losers four to one on volume of 1.3 billion shares. On the Nasdaq, advancers topped decliners by over three to one on volume of 2.25 billion shares.
Jobs: The government's weekly jobless claims report and third-quarter productivity report showed that the pace of layoffs is slowing, but also that employers are still not creating jobs.
The number of Americans filing new claims for unemployment fell to 512,000 last week from 532,000 the previous week, the lowest level since January. Economists surveyed by Briefing.com expected 522,000 claims, on average.
Continuing claims, a measure of Americans who have been receiving benefits for a week or more, fell to 5.749 million from 5.817 million the week before. Economists thought it would fall to 5.750 million. It was the eighth decline in nine weeks. Although the decline could mean people are running out of benefits -- not that they are finding jobs.
Separately, the Senate and House both voted Wednesday to extend unemployment benefits by up to 20 weeks -- and extend the homebuyer tax credit. President Obama is expected to sign the bill into law Friday.
Another economic report showed that worker productivity is up, a good sign for corporate profits, but also further evidence that companies aren't hiring. Third-quarter productivity rose by 9.5% after rising 6.6% in the previous quarter. Economists thought it would fall to 6.5%.
"The productivity and jobless claims show a rapidly improving economy," said Ryan Detrick, senior technical strategist at Schaeffer's Investment Research.
But the key report this week is the October unemployment report from the Labor Department, due Friday, Detrick said.
Due before the start of trading, employers are expected to have cut 175,000 jobs from their payrolls after eliminating 263,000 in the prior month. The unemployment rate, generated by a separate survey, is expected to rise to 9.9% from 9.8% in September.
Retail: Shoppers remained cautious with their spending last month, with discounters and warehouse clubs seeing the best October retail sales.
On the upside, Costco (COST, Fortune 500) said sales at stores open a year or more rose 5% during the month, topping forecasts for a rise of 4.7%. Shares gained around 1%.
Gap (GPS, Fortune 500) reported sales rose a better-than-expected 4%, sending shares higher in morning trading. Shares gained 3.5%.
On the downside, American Eagle Outfitters (AEO) said sales fell 5% versus forecasts for a rise of 1.7%. Shares fell 11.6% in active New York Stock Exchange trading.
Company news: After the close Wednesday, Cisco Systems (CSCO, Fortune 500) reported weaker quarterly earnings and revenue that beat estimates.
The company's CEO, John Chambers, said current-quarter revenue would top estimates and that business conditions had bottomed at least six months ago. Cisco shares gained 2.8% Thursday.
Automaker Toyota (TM) reported a surprise quarterly profit Thursday and cut its annual loss forecast by over 50%
Shares of CVS Caremark (CVS, Fortune 500) slumped 21% in active trading after the company warned that 2010 profits at Caremark, its pharmacy benefits management division, are likely to slump by 10% to 12%. The company also said Caremark's CEO is stepping down. Drugstore CVS bought Caremark in March 2007
The news overshadowed the company's bigger-than-expected jump in quarterly profit.
World markets: European markets gained, reversing early losses. Asian markets tumbled.
Currency and commodities: The dollar fell versus the euro and gained against the yen.
U.S. light crude oil for December delivery fell 62 cents to settle at $79.78 a barrel on the New York Mercantile Exchange.
COMEX gold for December delivery climbed $2 to settle at $1,089.30 an ounce.
Bonds: Treasury prices fell, raising the yield on the 10-year note to 3.53% from 3.52% Wednesday. Treasury prices and yields move in opposite directions.

Features

These Fortune 100 employers have at least 350 openings each. What are they looking for in a new hire? More

It would be the world's second-biggest economy. See how big companies' sales stack up against GDP over the past decade. More