Stock rally: Two weeks and counting
Retail shares helped lead a strong advance to end the second week in a row higher, as investors gained confidence in the pace of the economic recovery.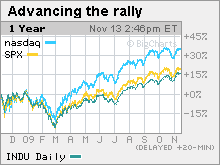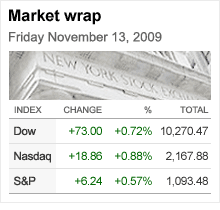 Map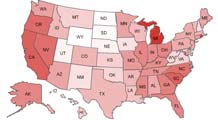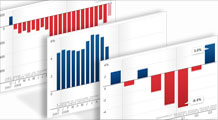 The economy has grown for five straight quarters, but there are signs that the recovery is still fragile.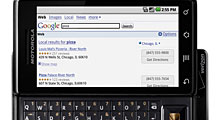 Consumers looking to buy electronics for holiday gifts won't have to break the bank this season.
NEW YORK (CNNMoney.com) -- Stocks rallied Friday to end higher for the second week in a row, amid heightened confidence that the pace of the economic recovery is gaining momentum.
The Dow Jones industrial average (INDU) jumped 73 points, or 0.7%, to close at 10,270.47. Gains were broad, with 22 of the 30 Dow components closing higher.
The S&P 500 (SPX) gained 6 points, or 0.6%, to end at 1,093.48, and the Nasdaq composite (COMP) gained 19 points, or 0.9% to settle at 2,167.88.
All three indexes finished higher for the week, with the Dow increasing 2.47% off last week's close of 10,023.43. That's the second straight "up" week, part of a wider trend higher as stocks have been on a tear since bottoming on March 9.
The blue-chip Dow has rallied more than 53% since then. The S&P has fared even better in the rapid rise, soaring 64% off the March bottom -- but the Nasdaq is the leader of the trio, up 71% from its low.
Consumer-related shares led the advance Friday, following upbeat earnings reports from retailers JC Penney (JCP, Fortune 500) and Abercrombie & Fitch (ANF).
Investors also shrugged off two weak economic reports and snapped up shares beaten down in the previous session, including American Express (AXP, Fortune 500), McDonald's (MCD, Fortune 500) and United Technologies Corp (UTX, Fortune 500).
The University of Michigan said consumer sentiment unexpectedly fell to 66 in early November from 70.6, while the Commerce Department said the trade balance between imports and exports grew more than expected in October to $36.5 billion.
Bouncing back. The market has been ignoring reports like consumer sentiment because "if you dissect it, it boils down to issues like high unemployment," said Peter Cardillo, chief market economist with Avalon Partners.
"The market is already aware of these problems," Cardillo added. "So reports can have an effect, but usually it's not earth-shattering."
Jeffrey Hirsch, an analyst at Stock Trader's Almanac, agreed that investors are "shrugging off some negative data" in fear of missing a rally.
"We were in the second-worst bear market for the Dow since 1900," Hirsch said. "It's not overly surprising that there's some bounceback."
Stocks have also been benefiting from a weaker dollar, which has been holding near a 15-month low against the euro.
"Cheap money is seeking a home in equities, and that momentum is pushing the runup," Cardillo said.
Earlier this week, jitters about the economic recovery led investors to question the sustainability of a six-day rally, and stocks slumped Thursday.
"There's still a lot of money coming in on momentum that news is less bad than it was," Hirsch said.
Happy new year for stocks? Hirsch said he is looking for steady stock gains through the rest of 2009 to continue through the beginning of the year. But he cautioned the lack of a moderate rally toward the end of the year could be a bad sign for 2010.
By the end of the first quarter of 2010, "investors will get impatient with not-as-bad news and start really looking for true improvement," Hirsch said.
Cardillo was also bullish on 2009, saying he expects the Dow to hit 11,000 and the S&P to reach 1,175 by year's end.
Companies: Disney (DIS, Fortune 500), whose shares rose almost 4.8%, reported quarterly results late Thursday that showed signs of a turnaround at the company. It also swapped the roles of two top executives.
Also after the closing bell Thursday, upscale retailer Nordstrom (JWN, Fortune 500) posted a quarterly profit that was below analysts' forecasts, and said it expects a drop in full-year same-store sales.
Dollar General (DG) went public late Thursday and opened on the New York Stock Exchange Friday, closing up 8.2% from its initial public offering price of $21.
Other markets: The dollar fell broadly against the euro, pound and yen.
Oil prices fell 59 cents to settle at $76.35, while gold settled up $10.10 to $1,116.70 per ounce.
Treasurys fell as investors digested this week's record $81 billion worth of auctions.
Most Asian markets finished the session in negative territory, although Hong Kong's Hang Seng posted gains. In Europe, major indexes ended higher.
Market breadth was positive. On the New York Stock Exchange, winners topped losers three to one on volume of 985 million shares. On the Nasdaq, advancers topped decliners almost two to one on volume of 1.9 billion shares.

Features

These Fortune 100 employers have at least 350 openings each. What are they looking for in a new hire? More

It would be the world's second-biggest economy. See how big companies' sales stack up against GDP over the past decade. More