Stocks down on day, week, year
NEW YORK (CNNMoney.com) -- Stocks slumped Friday, with the three major indexes ending in negative territory for the year as investors mulled the Greek debt crisis and the aftermath of one of the most gut-churning days in Wall Street history.
The Dow Jones industrial average (INDU) lost 140 points, or 1.3%, after seesawing in the morning, having gained as much as 59 points and lost as much as 279 points. The S&P 500 index (SPX) lost 17 points, or 1.5%. The Nasdaq composite (COMP) lost 54 points, or 2.3%.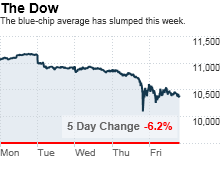 All three indexes ended in negative territory for the year. All three indexes also closed lower for the fourth straight session and the second straight week.
The selloff from the late April highs has been substantial enough that the Nasdaq, with a loss of 10.5%, is now considered to be in a correction.
The Dow and S&P 500 are also approaching double-digit losses, down 7.4% and 8.7% respectively.
Stocks were extremely volatile throughout the session, with the major indexes criss-crossing the breakeven line several times during the day. Investors looked past a big rise in April payrolls and instead focused on Europe in the aftermath of Thursday's roller-coaster ride.
Europe's debt woes were in focus as riots continued in Greece. British elections failed to produce a ruling majority, resulting in a hung Parliament for the first time since the 1970s.
Meanwhile, U.S. investors remained rattled after a session in which the Dow lost almost 1,000 points before rebounding two-thirds of the way back.
"Investors are very confused about how the market could drop hundreds of points in minutes, and until there are concrete answers, they aren't going to feel better," said Andrew Neale, head of wealth management at Fogel Neale Partners.
"The market erased two months of gains in a few days, and it's nerve wracking," he said.
Wall Street's fear gauge, the CBOE Volatility index, or the VIX (VIX), rose 26% Friday, to $41.43, ending at a fresh 13-month high.
Tech shares slumped across the board, including IBM (IBM, Fortune 500), Hewlett-Packard (HPQ, Fortune 500), Cisco Systems (CSCO, Fortune 500) and Microsoft (MSFT, Fortune 500). But losses were pretty spread out, with 26 of 30 Dow components sliding. Gains in JPMorgan Chase (JPM, Fortune 500) and Chevron (CVX, Fortune 500) helped protect the Dow from bigger losses.
Market breadth was negative. On the New York Stock Exchange, losers beat winners seven to three on volume of 2.42 billion shares. On the Nasdaq, losers beat winners three to one on volume of 4.18 billion shares.
Thursday's wild ride: An already weak Dow plunged 650 points in less than 10 minutes Thursday afternoon as erroneous trades on hundreds of stocks piled up, causing an investor panic. The blue-chip indicator had already been sporting a nearly 350-point loss on Greek debt worries ahead of the crash, bringing its losses to almost 1,000 points shortly before 3 p.m. ET.
That 998.5-point loss was the worst ever on an intraday basis. However, the Dow ended up recovering most of the sudden loss by the close, ending the day down 348 points. The loss of 348 points was the Dow's worst in 15 months.
On Friday, Nasdaq said it canceled trades on 296 stocks that saw their prices fluctuate by at least 60% between 2 p.m. and 3 p.m. ET on Thursday, including Accenture (ACN), which plunged from $40.13 to just one cent before recovering.
But trades were not canceled for Dow components Procter & Gamble (PG, Fortune 500), which fell 37%, and 3M (MMM, Fortune 500), which lost 22%, contributing 315 of the 998.50 points the Dow lost at its nadir.
European debt crisis: Worries about the European debt crisis have dragged on stocks all week as investors feared that problems in Greece will spread -- despite the country receiving a $146 billion bailout package. Those worries continued Friday, but were somewhat cooled after German lawmakers approved the country's contribution to the loan package, roughly $29.6 billion over the three years.
In Europe, markets tumbled across the board, with France's CAC 40 down 4.6%, the London FTSE down 2.6% and the German DAX down 3.3% after Britain's elections ended in a hung Parliament, with none of the ruling parties possessing enough seats for majority rule.
Asian markets tumbled in response to Wall Street's miserable Thursday, with the Japanese Nikkei losing 3.1% and Hong Kong's Hang Seng down 1%. The Bank of Japan infused $22 billion into financial markets Friday to increase the sense of security amid the Greek debt worries.
Jobs: Employers added 290,000 jobs to their payrolls in April, the government said, surprising economists who expected 187,000 new jobs. It was the biggest one-month gain since March 2006. March's number was revised up to 230,000 from the originally reported 162,000.
Company news: Troubled insurer AIG (AIG, Fortune 500) reported a quarterly profit Friday morning, versus a year-ago loss, as the company's insurance business continued to stabilize. The company's shares are up 23% this year on hopes it can pay back the more than $120 billion in loans it owes taxpayers.
The company received a bailout worth up to $182 billion from the government.
Dollar and commodities: The dollar rose 1.1% against the yen, but slipped 1% versus the euro. On Thursday, the euro had fallen to the lowest point versus the dollar since March 2009.
U.S. light crude oil for June delivery dropped $2 to settle at $75.11 a barrel on the New York Mercantile Exchange.
COMEX gold for June delivery rose $13.10 to settle at $1,210.40 per ounce.
Bonds: Treasury prices fell, pushing the yield on the 10-year note to 3.42% from 3.40% Thursday. Treasury prices had fallen more in the morning, with the yield even higher, but cut losses as the session wore on. Treasury prices and yields move in opposite directions.