Bank stocks ignite big rally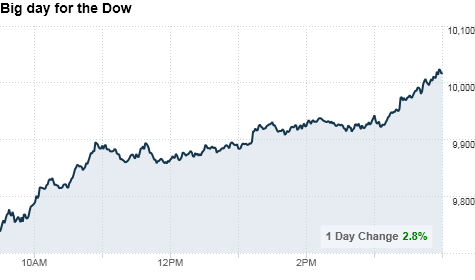 NEW YORK (CNNMoney.com) -- Stocks surged Wednesday, with the Dow jumping as much as 283 points, as investors came back after the recent bloodletting, spurred on by State Street's improved earnings forecast.
A stronger euro helped propel commodity shares, cooling some worries about the European debt crisis.
The Dow Jones industrial average (INDU) gained 275 points, or 2.8%, its biggest one-day point and percentage gain since June 10.
The S&P 500 (SPX) gained 32 points, or 3.1% for its biggest one-day point and percentage gain since May 27. The Nasdaq (COMP) composite gained 65 points, or 3.1%, its biggest one-day point and percentage gain since May 10.
"A lot of the optimism today was fueled by State Street's pre-announcement," said Jack Ablin, chief investment officer at Harris Private Bank. "Although it's not a company that will be affected by the financial reform package, it's still a financial company and that's helping the sector."
State Street gained nearly 10% after it lifted its quarterly earnings forecast. The KBW Bank (BKX) index, which includes State Street, gained 5.6%.
Stocks were also bouncing in the aftermath of a sell-off that sent the major indexes all down by more than 15% since the late April highs. The indexes lost 5% last week alone and closed at 8-month lows.
Worries about the U.S. economy heading toward a double-dip recession, particularly amid the fallout in Europe, were key to the decline that was stemmed Tuesday.
"We got very oversold on a technical level and so you're seeing a bounce," said Dave Rovelli, managing director of U.S. equity trading at Canaccord Adams.
"Since there's nothing happening on the economic front and since the volume is pretty light, we could see this bounce continue for a few days," he said.
Whether the bounce becomes a bigger rally will depend on whether the S&P 500 can hang on to some key technical levels it is flirting with, he said.
The market's ability to move higher will also depend on the results of the European bank "stress tests" as well as what kind of profit guidance U.S. companies give as they begin reporting quarterly results in the next few weeks.
"I think investors have been so focused on news with a glass half-empty bent that they have forgotten there are some positive developments out there," said Mark Luschini, chief investment strategist at Janney Montgomery Scott.
"I think State Street reminded people that the earnings are coming out soon and maybe things aren't going to be so bad," Luschini said.
Quarterly results: State Street (STT, Fortune 500) said it will report operating earnings of 92 cents per share on revenue of $2.2 billion in the just-completed quarter. Analysts surveyed by Thomson Reuters were expecting it to report a profit of 74 cents per share on revenue of $2.2 billion.
The regional bank also said it was taking a one-time after-tax charge of 50 cents per share to provide cash for trust funds that are run by its money-management unit, State Street Global Advisors.
On the downside, Family Dollar Stores (FDO, Fortune 500) forecast fiscal fourth-quarter earnings in a range that was short of analysts' estimates, due to the mixed economic outlook and the impact of competitor Wal-Mart Stores.
Among other stock movers, truckers and railroads surged, lifting the Dow Jones transportation (TRAN) average by 3.9%.
Gains were broad based, with all 30 Dow components rallying. In addition to financial components such as JPMorgan Chase, other big Dow gainers included Boeing (BA, Fortune 500), Caterpillar (CAT, Fortune 500), Chevron (CVX, Fortune 500), Hewlett-Packard (HPQ, Fortune 500), IBM (IBM, Fortune 500) and 3M (MMM, Fortune 500).
Consumer: The number of Americans behind on their credit-card payments fell to an 8-year low in the first quarter, the American Bankers Association reported Wednesday.
A sustained period of high unemployment and worries about the recovery have caused investors to spend less and banks to lend less.
World markets: European markets gained, with Britain's FTSE 100 rising 1%, Germany's DAX advancing 0.9% and France's CAC 40 climbing 1.8%.
Most Asian markets ended lower, with Japan's Nikkei falling 0.6%, Hong Kong's Hang Seng off 1.1% and the Shanghai Composite rising 0.5%.
Commodities: U.S. light crude oil for August delivery rose $2.93 to $74.91 a barrel on the New York Mercantile Exchange.
COMEX gold for August delivery gained $7.90 to $1,203 an ounce.
Bonds: Treasury prices fell, raising the yield on the 10-year note to 2.98% from 2.93% late Tuesday. Debt prices and yields move in opposite directions.
Market breadth: Market breadth was positive. On the New York Stock Exchange, winners beat losers by six to one on volume of 1.34 billion shares. On the Nasdaq, advancers beat decliners almost four to one on volume of 2.18 billion shares.