Stocks end August with a whimper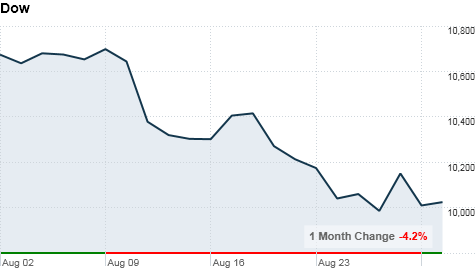 NEW YORK (CNNMoney.com) -- Stocks were little changed at the end of a choppy session Tuesday, closing out a lackluster August for the market as investors weighed meeting minutes from the Federal Reserve against upbeat economic reports.
The Dow Jones industrial average (INDU) gained 4 points, or less than 0.1%. The S&P 500 (SPX) edged up less than 1 point. The Nasdaq (COMP) composite lost 6 points, or 0.3%.
All three indexes posted monthly declines. The Dow lost about 4.3% in August, while the S&P 500 fell 4.7%, and the Nasdaq slumped 6.2% in the month.
The lackluster performance in August came after stocks rallied 7% in July on strong profit growth from major U.S. corporations. But the market is still down for the year. The Dow has lost nearly 4% so far in 2010.
On Tuesday, stocks were supported earlier in the session by a larger-than-expected rise in consumer confidence and a jump in U.S. home prices. But the tone turned bearish late in the day after the Fed released minutes from its Aug. 10 meeting.
The minutes raised concerns that the central bank may not take steps to support the faltering economic recovery unless conditions deteriorate significantly, said Dan Cook, senior market analyst at IG Markets.
"The market was anticipating that they would get in with a bit of a slowdown," he said. "But the minutes suggest that things will have to get a lot worse."
Cook said trading will probably remain volatile as investors await key economic reports due later this week, including the government's closely watched monthly jobs numbers on Friday.
"It's hard to be long or short ahead of the non-farms payroll report," he said.
Investors have been focused on the outlook for the U.S. economy recently as the nation's growth has slowed. In particular, they are worried that the weak job market will continue to weigh on consumer spending -- which drives the bulk of economic activity.
Economic reports due Wednesday morning include an index of nationwide manufacturing activity and a report on private sector job cuts in August. In addition, major automakers report August sales figures throughout the day.
The uncertainty surrounding the economic outlook and historically low trading volumes led to increased turbulence on Wall Street during August. The CBOE Market Volatility Index, or VIX (VIX), rose more than 18% in August to 26.05.
Trading volumes continued to be light Tuesday with many market participants on vacation this week. Stocks dropped more than 1% in thin trading Monday.
Economy: Investors welcomed a slight improvement in the economic news Tuesday with better-than-expected readings on consumer confidence and home prices.
The Conference Board's index of consumer confidence rose to a reading of 53.5 in August from an adjusted 51 in July. Economists were expecting the index to come in at 50, according to consensus estimates from Briefing.com.
The rebound in confidence numbers was attributed mostly to an improvement in how consumers view the short-term economic outlook, the Conference Board said. Meanwhile, the weak job market continues to darken their long-term view.
"The comfort in this release is that confidence did not fall further," said Paul Dales, an economist at Capital Economics. "But there are few signs that households will ramp up their spending."
Separately, the Chicago PMI, a regional reading on manufacturing activity, fell to 56.7 in August. That's down from 62.3 in July and slightly weaker than expected. Economists were looking for 57 in August.
Before the market opened, a report showed that national home prices jumped a substantial 3.6% in the past year, versus a forecasted 3.1% gain. The S&P/Case-Shiller Home Price Index also showed that prices climbed 4.4% in the second quarter, compared with a 2.8% plunge in the first quarter.
Investors are especially wary ahead of Friday's big employment report, which is expected to show that the economy lost jobs for a third month in a row in August.
Economists expect employers to have shed 120,000 jobs in August, after cutting payrolls by 131,000 in July. The unemployment rate is forecast to creep up to 9.6% from 9.5%.
Companies: Technology shares came under pressure after research firm Gartner lowered its forecast for PC sales in the second half of 2010, citing an uncertain economic outlook in the United States and Europe.
The Philadelphia Semiconductor Index, or SOX (SOX), fell nearly 2%.
Monsanto (MON, Fortune 500) fell almost 6% after the company warned that its fiscal year earnings per share will be at the lower end of its forecasted range. The agribusiness giant said it expects to earn between $2.40 and $2.45 a share this fiscal year. Analysts surveyed by Thomson Financial expect $2.48 per share.
Shares of Saks Inc. (SKS) spiked 20% after a report from the Daily Mail said a group of U.S. and U.K. private equity companies may soon bid $1.7 billion, or $11 per share, for the high-end retailer.
Data-storage company 3PAR (PAR) rose nearly 1% as a Reuters survey revealed that most analysts and investors expect Dell (DELL, Fortune 500) to bow out of the bidding war with Hewlett-Packard Co. (HPQ, Fortune 500) Dell has until Wednesday to match HP's $2 billion bid for 3PAR.
World markets: European shares closed higher. The CAC 40 in France edged up 0.1%, the DAX in Germany rose 0.2%, Britain's FTSE 100 gained 0.4%.
Asian markets ended lower. Japan's benchmark Nikkei index sank 3.6% to a 16-month closing low. The Shanghai Composite decreased 0.5% and the Hang Seng in Hong Kong lost 1%.
Meanwhile, India's economy grew by 8.8% during the three months ended June 30. That compares with 8.6% during the previous quarter and 6% growth during the same quarter a year ago.
Currencies and commodities: The dollar edged lower against the euro and the Japanese yen but was higher versus the British pound.
Oil futures for October delivery fell $3 to $71.70 a barrel. Gold for December delivery gained $11.10 to $1,250.30 an ounce.
Bonds: The yield on the 10-year Treasury note fell to 2.48% from 2.54% late Monday.