Stocks drop as fear returns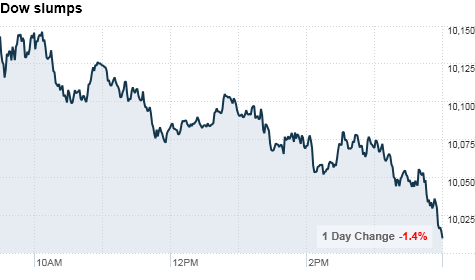 NEW YORK (CNNMoney.com) -- Stocks fell sharply late Monday, ending a lackluster session more than 1% lower, as the tone on Wall Street turned bearish ahead of big economic reports due later this week.
The Dow Jones industrial average (INDU) slumped 141 points, or about 1.4%, to close The S&P 500 (SPX) slid 15 points, or 1.5%, and the Nasdaq (COMP) composite shed 33 points, or 1.5%.
Stocks opened lower as investors responded to a mixed report on American consumers, a pair of billion-dollar corporate deals and a move by the Bank of Japan to shore up its economy. But the selling gained momentum late in the session as the few traders who aren't on vacation this week turned cautious.
"There's nothing to take us higher so we're continuing to go lower," said Dan Greenhaus, chief economic strategist at Miller, Tabak and Co. With volume expected to be light this week, Greenhaus said he wouldn't be surprised to see some big swings.
"It's tough to read anything into the action on days like this when volume is so low," he said. "What we're hoping for now is for some stability in the data to put a floor under stocks."
The economy will continue to be a big driver this week, with reports on consumer spending, home sales and manufacturing activity on tap. But mostly, investors are gearing up for the government's monthly jobs report, due before the opening bell Friday.
Looking ahead, investors will take in a reading on consumer confidence before the market opens on Tuesday. Reports on home prices and regional manufacturing activity are also due in the morning. In the afternoon, the Federal Reserve will release minutes from its most recent policy meeting.
Meanwhile, Friday's sell-off was broad based, with all but one Dow stock falling. Among the biggest losers on the blue chip measure were 3M (MMM, Fortune 500), Caterpillar (CAT, Fortune 500) and American Express (AXP, Fortune 500).
Market breadth was negative. Declining shares outnumbered advancing shares by five to two on the New York Stock Exchange. Trading volume was anemic, with 818 million shares changing hands.
Stocks rallied at the end of last week, to gain nearly 2% on Friday. But all three major indexes ended the week lower and are on track to post monthly declines.
Economy: A government report showed that personal income rose 0.2% in July, in line with expectations.
The report said consumer spending outpaced income growth, rising 0.4% in July. Economists surveyed by Briefing.com were expecting spending to rise 0.3% during the month, after a 0.1% rise the month before.
But personal savings, as a portion of disposable income, came in lower than the previous month.
Merger Monday French drugmaker Sanofi-Aventis (SNY) agreed to buy biotech firm Genzyme (GENZ, Fortune 500) in an $18.5 billion cash deal. Genzyme has reportedly been snubbing Sanofi's advances for the past month, prompting the French firm to send a so-called 'bear hug' letter that is one stop short of a hostile takeover.
Shares of Sanofi fell about 1% and Genzyme's stock rallied 3.4%.
Giant chipmaker Intel (INTC, Fortune 500)'s stock fell 1.6% after the company inked a deal to acquire the wireless unit of German chipmaker Infineon Technologies in an all-cash deal valued at $1.4 billion. Intel recently purchased security technology firm McAfee Inc. (MFE) for $7.7 billion in cash on Aug. 19. On Friday, Intel warned its third-quarter sales would fall short of its previous forecast.
3M (MMM, Fortune 500) said it will acquire biometric security company Cogent Systems (COGT) for $10.50 per share in a deal valued at $943 million. Shares of 3M slipped 1.6%.
The bidding war for 3PAR (PAR) continues. HP (HPQ, Fortune 500) has currently topped Dell (DELL, Fortune 500), with their bid of $2 billion, or $30 per share, that was made on Friday.
"We've seen a lot of cash build up on balance sheets [but] revenue growth prospects are still limited" said Bruce McCain, chief market strategist at Key Private Bank, adding that companies will probably continue to focus on cost cutting to boost profits.
Japan: The Bank of Japan announced steps at an emergency meeting Monday to curb the yen's strength and lift the country's struggling economy.
The central bank announced a new ¥10 trillion, or $117.15 billion, six-month loan program for financial institutions, in addition to the ¥20 trillion it has been offering in three-month loans. The bank also held its key-interest rate at 0.1%.
But some analysts said the move was not aggressive enough to boost Japan's ailing economy.
"It's another reminder that growth is slow," said McCain, in reference to the BOJ plan. "That anxiety doesn't help when people are already concerned about the slow growth cycle and double-dip fears haven't been vanquished."
World markets: European shares ended the day mixed. The CAC 40 in France and the DAX in Germany both fell about 0.6%. Britain's FTSE 100 climbed 0.9%.
Asian markets ended higher, following the Bank of Japan's announcement to ease monetary pressure. Japan's benchmark Nikkei index jumped up 1.8%, and the Shanghai Composite rose 1.6%. The Hang Seng in Hong Kong added 0.7%.
Currencies and commodities: The dollar rose against the euro and the British pound, but fell versus the Japanese yen.
Oil futures for October delivery slipped 63 cents to $74.54 a barrel. Gold for December delivery gained $1.30 to $1,239.20 an ounce.
Bonds: The yield on the 10-year Treasury note fell to 2.54% from 2.64% late Friday.
Are you under the age of 35 and pulling your money out of the stock market? What's your investing strategy amid the current economic uncertainty? Are you still willing to take on more risk? E-mail your story to Hibah.Yousuf@turner.com and you could be part of an upcoming feature. For the CNNMoney.com Comment Policy, click here.