China manufacturing could help avoid 'hard landing'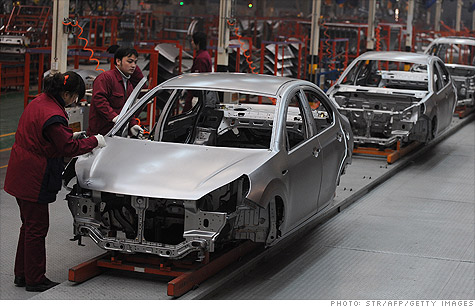 NEW YORK (CNNMoney.com) -- China's manufacturing sector rebounded in August, calming some fears about the pace of that country's growth.
"China's latest [manufacturing numbers] provide tentative evidence that the economic slowdown is bottoming out," said Mark Williams, senior China economist at Capital Economics, in a research note.
China's Federation of Logistics and Purchasing said its reading in August rose to 51.7, up half a percentage point from July. HSBC's reading hit a three-month high of 51.9 in August. Any figure above 50 indicates expansion.
HSBC was also upbeat in its outlook for the coming months, thanks to 100,000 infrastructure projects, increased public housing construction and other development plans.
Williams said the reports signaled a "receding threat of [a] hard landing," though the pace of growth remains weak.
Asia is key to recovery: Investors are keenly tuning into reports about China's economy, especially seeking signs that growth is under control.
China's economy has been growing at breakneck speed, hitting a growth rate of 10.3% in the second quarter.
But Chinese officials have taken steps to slow that growth, as they're worried the nation's economy will crash if expansion continues to skyrocket. The government has told banks to crack down on mortgages and pull back on lending to avoid developing a bubble that could soon burst.
While China is the world's third-largest economy, its global influence is powerful. The country's appetite for natural resources affects prices of commodities like oil. China also holds a huge chunk of U.S. debt.
Earlier this month, a report said China is on track to overtake Japan as the No. 2 economy, with the International Monetary Fund projecting 10.5% growth in 2010 and 9.6% in 2011.
China's economy has been driven by investments and exports -- its U.S. trade surplus hit an 18-month high of $28.7 billion in July. But that strategy could soon catch up with the country's leaders, as overseas demand for Chinese goods will likely drop off as growth has slowed in America and Europe.
The country has also gotten a boost from its massive population, which is about four to five times bigger than that of America. But that figure is shrinking as the country continues enforcing its policy of limiting couples to one child.
Despite the upbeat manufacturing reports, the Shanghai Composite ended 0.6% lower Wednesday. Japan's benchmark Nikkei index gained nearly 1.2% after hitting a 16-month low on Tuesday. The Hang Seng in Hong Kong rose 0.4%.