Stocks end higher after Obama speech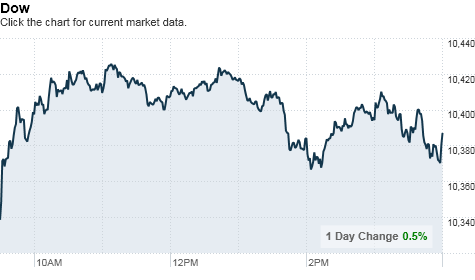 NEW YORK (CNNMoney.com) -- Stocks ended Wednesday higher as investors shifted their focus from worries about European banks to President Obama's $350 billion jobs recovery plan.
The Dow Jones industrial average (INDU) rose 46 points, or 0.45%, to 10,387 the S&P 500 (SPX) gained 7 points, or 0.6%, to 1,099 and the Nasdaq (COMP) Composite climbed 20 points, or 0.9%, to 2,229.
Stocks are coming off losses Tuesday, when all three major indexes fell more than 1% as investors worried that European banks are in worse shape than previously believed.
But those fears subsided a bit Wednesday morning after the Portuguese debt auction was met with healthy demand. Experts caution that concern about Europe's banks may have eased but the problems are far from disappearing.
As austerity measures take effect in several European countries and various data continue to point to slower economic growth globally, sovereign credit spreads have started widening again, nearing the levels they were at in the spring, said David Chalupnik, the head of equities at First American Funds.
Wider credit spreads are a sign that funding government debt could become more challenging for debt-laden European countries, he explained.
Economy: The Federal Reserve's Beige Book, a snapshot of economic conditions across the central bank's 12 districts, suggested the economy continued to grow between mid-July and the end of August, but with "widespread signs of a deceleration" compared with earlier periods.
A separate report from the Fed showed that consumer debt fell by $3.6 billion in July -- far less than the $5.25 billion decrease predicted by economists surveyed by Briefing.com.
Obama: President Obama officially unveiled three new proposals aimed at bolstering the shaky economic recovery in a speech in Cleveland.
They include an estimated $200 billion in tax breaks for businesses that invest in new plants and equipment; a $100 billion extension of the business tax credit for research and development; and $50 billion over the next decade to improve roads, rails and other infrastructure.
Congress is not expected to pass the proposals soon.
Companies: Shares of BP (BP) surged more than 3% at the opening bell after Fitch upgraded the company's rating three notches.
The ratings firm said the upgrade "primarily reflects an end to the threat of further leaks from the Macondo well in the Gulf of Mexico."
World markets: European shares gained. The CAC 40 in France rose 0.9%, the DAX in Germany added 0.8%, while Britain's FTSE 100 edged up 0.4%.
Asian markets ended sharply lower after the yen hit another 15-year high against the dollar. Japan's benchmark Nikkei index tumbled 2.2% and the Hang Seng in Hong Kong dropped 1.5%. The Shanghai Composite ended 0.1% lower.
Currencies and commodities: The dollar rose against the Japanese yen after sinking to a fresh 15-year low earlier, and the greenback fell against the euro and the British pound.
Oil futures for October delivery rose 41 cents to settle at $74.67 a barrel.
Gold for December delivery fell $1.80 to settle at $1,257.50 an ounce.
Bonds: The yield on the 10-year Treasury note rose to 2.65% from 2.61% late Tuesday.