Stocks end higher on dollar moves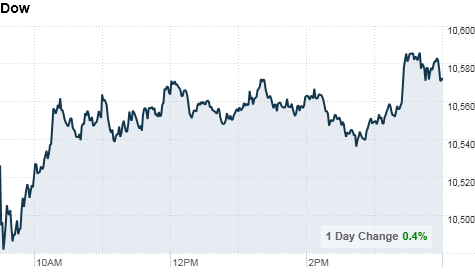 NEW YORK (CNNMoney.com) -- Stocks surged in the last half hour of trading to close higher Wednesday, tracking the U.S. dollar's strength after Japan moved to rein in the surging yen.
The Dow Jones industrial average (INDU) rose 46 points, or 0.4%, to close at 10,572.73. The Nasdaq (COMP) added 12 points, or 0.5%, to end at 2,301.32, and the S&P 500 (SPX) ticked up 4 points, or 0.4%, to settle at 1,125.07.
Energy and technology shares had been lower earlier in the session, dragging down the broader indexes, but they turned mixed in the last hour of trade. Housing shares remained mostly lower.
Foreign exchange rates were in the spotlight after the Japanese government's first jump into the currency market since 2004. The yen rose to a fresh 15-year high against the dollar Tuesday, prompting recently re-elected Japanese Prime Minister Naoto Kan to announce the nation will sell yen and buy dollars. The move boosted the dollar Wednesday.
Stock trading has been choppy over the past few sessions as investors searched for a catalyst to spur buying. All three indexes opened modestly lower Wednesday, but analysts expected more volatility with little on the docket to push stocks one way or another.
"Today's reports underwhelmed, but they weren't far off the mark," said Mark Luschini, chief investment strategist at Janney Montgomery Scott. "There's no big data pushing a major move either higher or lower."
Stocks ended mixed Tuesday, as a recent rally on Wall Street ran out of steam. Investors welcomed a slightly better-than-expected report on U.S. retail sales, but the Dow and S&P 500 both closed lower.
Spotlight on manufacturing: The manufacturing sector has expanded for 13 straight months, making it a bright spot against a backdrop of fears of a slower recovery. A report released earlier this month showed activity grew well beyond expectations in August.
However, two manufacturing reports released Wednesday just missed experts' predictions.
The Federal Reserve Bank of New York said business conditions in New York state remained positive in September, although activity slowed from August.
Also on Wednesday, the Commerce Department said industrial production rose 0.2% in August, below the 0.3% gain expected by economists. Capacity utilization fell to 74.7%, from a downwardly revised 74.8%.
Coming up Thursday, the Philadelphia Fed will release its regional manufacturing data.
Economy: The government said U.S. import prices increased 0.6% in August, driven by rising gas prices. Export prices rose 0.8% in the month.
Former Fed chairman Alan Greenspan called for the government to raise taxes in a speech before the Council on Foreign Relations in New York.
Companies: MasterCard (MA, Fortune 500) shares gained to end 5.3% higher. The company said it expects its net income to rise at least 20% this year, due to a decline in expenses and favorable foreign exchange rates.
Shares of most big banks closed mixed Wednesday, the second anniversary of the failure of Lehman Brothers.
Novell (NOVL) shares rose to end up almost 6% on unconfirmed talk that the network software company is preparing to sell itself in two parts.
World markets: European shares ended lower. The CAC 40 in France fell around 0.4%, Germany's DAX slipped 0.1%, and Britain's FTSE 100 was 0.2% lower.
Asian markets ended mixed, with Japan's benchmark Nikkei index surging 2.3% on the back of the yen intervention. The Hang Seng in Hong Kong rose 0.1% and the Shanghai Composite fell 1.3%.
Currencies and commodities: The dollar rose against the euro and the British pound, and surged more than 2.5% against the Japanese yen.
Oil futures for October delivery fell $1 to $75.80 a barrel. A report late Tuesday from the American Petroleum Institute showed an unexpected increase in crude supplies last week, while the more closely watched inventory report from the Energy Information Administration showed that supplies fell.
Gold for December delivery eased $3 to settle at $1268.70. On Tuesday, the December contract settled at a record high of $1,271.70.
Bonds: The yield on the 10-year Treasury note rose to 2.72% from 2.67% late Tuesday.