Stocks end with a late-stage slide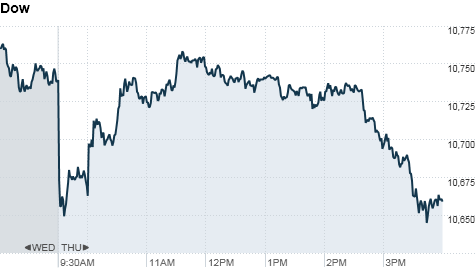 NEW YORK (CNNMoney.com) -- Stocks stumbled in the final hours of a lackluster session and ended near session lows, as nervous investors weighed a surprise jump in weekly jobless claims with a better-than-expected reading on the housing market.
The Dow Jones industrial average (INDU) dropped for a second straight day, falling 77 points, or 0.7%. The blue-chip index had tumbled as much as 94 points during the first hour of the session, then recovered to add 23 points before slumping just below the breakeven line for a majority of the trading day.
The S&P 500 (SPX) ended 9 points lower, or 0.8%, while the tech-heavy Nasdaq (COMP) slipped 8 points, or 0.3%, after spending most of the day in positive territory.
Stocks took a slide at the open after a surprise jump in jobless claims, but clawed back from the deep losses following reports that showed a bounce in existing homes and an improvement in the index of leading indicators, which gauges the economy's performance over the next three to six months.
Trading remained in a tight range most of the day as worries about the job market and the broader economy continued to weigh on sentiment, but stocks lost steam in the late afternoon.
"We got a bit of good news in housing and the overall economy, but there's still a great amount of uncertainty about the labor market," said Peter Tuz, president at Chase Investment Council.
And though the rebound in home sales was a welcome change since they plunged 30% to a record low the previous month, the housing market recovery remains sluggish.
"The housing report is helping, but investors know that as soon as there's one good report on housing, there will be a bad one two days later," said Gary Webb, chief executive of Webb Financial Group.
Webb said trading will remain choppy as investors react to each piece of economic news. But he expects the market to trend upward for the remainder of the year.
So far, the S&P is up almost 1%, while the Dow and the Nasdaq are more than 2% higher on the year. Much of that comes from the market's recent performance, with stocks on track to log the biggest monthly gains since April 2009.
Stocks slumped Wednesday amid concerns about the economy and after gold prices touched a new all-time record just shy of $1,300 an ounce.
Investors continued to eye gold prices, which settled at another all-time high Thursday.
Economy: The weekly report on initial jobless claims was worse than expected. The number of people claiming unemployment benefits for the first time jumped by 12,000 to 465,000 last week, the Labor Department reported. Economists surveyed by Briefing.com were looking for claims to drop to 450,000 from 453,000 the previous week.
The National Association of Realtors reported that existing home sales rose 7.6% 4.13 million units in August. That's just slightly better than economists' predictions. And compared with a year earlier, sales are down 19%.
Meanwhile, the index of leading economic indicators -- a measure of the economy's future performance -- rose 0.3% in August, the Conference Board said. Analysts had forecast a 0.1% increase for the month.
Companies: Shares of Apple (AAPL, Fortune 500) climbed for a fourth straight session, nearing $300 per share. The company's market capitalization became the world's second largest with a market value of $267 billion, surpassing PetroChina (PTR) which is worth $264 billion. Apple still lags behind Exxon Mobil (XOM, Fortune 500), which boasts a market cap of $313 billion.
Blockbuster (BBI, Fortune 500) filed for its much-anticipated bankruptcy as it tries to recover from nearly $1 billion of debt. Blockbuster has struggled for survival ever since media conglomerate Viacom (VIA) spun off the company in 2004. Shares of Blockbuster tumbled 22%.
McDonald's (MCD, Fortune 500) announced an 11% dividend hike to 61 cents per share for the fourth quarter. This is equal to $2.44 per share annually. Shares of the fast food chain fell 0.7%.
Avis (CAR, Fortune 500) boosted its offer to buy Dollar Thrifty (DTG) to $1.52 billion, or about $53 per share, beating Hertz's (HTZ, Fortune 500) most recent offer of $1.45 billion, or $50 per share. Avis rose the cash portion of its bid by 12% to $45.79. Shares of Avis and Hertz fell about 4%, while Dollar Thrifty's advanced 1.9%.
Starbucks (SBUX, Fortune 500) said late Wednesday that it was hiking the price of its "labor-intensive" drinks because of rising coffee bean prices. Shares of the coffee giant lost 1.9%.
World markets: European shares fell Thursday. Britain's FTSE 100 lost 0.1%, Germany's DAX slipped about 0.4% and France's CAC 40 fell 0.7%.
Major stock markets in Asia were closed in observance of mid-autumn festivals.
Currencies and commodities: The dollar rose against the euro, and slipped versus the British pound and Japanese yen.
Gold for December delivery rose $4.20 to settle at a record high of $1,296.30.
Oil prices for November delivery rose 47 cents to settle at $75.18 a barrel.
Bonds: The price on the 10-year Treasury note was higher, pushing down the yield to 2.55% from 2.56% late Wednesday.