Stocks stumble at the close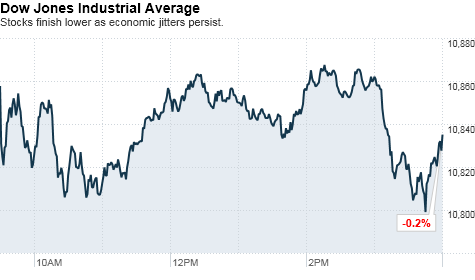 NEW YORK (CNNMoney.com) -- U.S. stocks ended slightly lower Wednesday, as uneasiness about the global economy continued to hang over the market and a light economic calendar gave investors little reason to jump in.
Dow Jones industrial average (INDU) slipped 23 points, or 0.2%, the S&P 500 (SPX) fell 3 points, or 0.3%, and the Nasdaq (COMP) lost 3 points, or 0.1%.
After rallying to 4-month highs and gaining for a fourth straight week last week, stocks have been stuck in a rut, swinging between small gains and losses.
"The economy still hasn't improved measurably," said Brian Battle, director of Performance Trust Capital Partners. "If there is a recovery taking place, it's very uneven."
Stocks finished modestly higher Tuesday, but trading was choppy as a disappointing reading on consumer morale fueled worries about the recovery.
While the economy may not be headed for a double-dip recession, economic and political uncertainty ahead of midterm elections and new tax policies is making it hard for stocks to keep up their momentum, said Tom Schrader, managing director at Stifel Nicolaus.
"Markets hate uncertainty, and the government has created a tremendous amount of uncertainty, so that's gotten the market frozen," he said. "It's not that we're going to get a double-dip recession, it's much more likely that we flatline for some time as small businesses and individuals are very cautious about what the government has done and what it's going to do."
World markets: With little in the way of economic news on tap Wednesday, concerns about the health of the euro zone pressured global markets.
European stocks slumped. Britain's FTSE 100 finished 0.2% lower, Germany's DAX declined 0.5% and France's CAC 40 dropped 0.7%.
Amid austerity measure protests in Spain, Ireland and Brussels, news reports Wednesday said Allied Irish Banks PLC may need an additional capital boost to protect it from future losses. Moody's downgraded Anglo Irish earlier this week.
"The weakness of European markets is all about concerns in Europe in terms of what the Irish are going to do with [Allied Irish Banks], we have strikes in Spain, and just the whole upheaval in the European continent," said Schrader.
Meanwhile, the U.S. House of Representatives was considering a bill that could punish China for manipulating the yuan's value, despite China's pledge Wednesday to increase the flexibility of its exchange rate.
"The U.S. Congress wanting to tick off our largest trading partner certainly doesn't bode well for the market," Schrader said.
Asian markets ended mostly higher. Japan's Nikkei added 0.7% and the Hang Seng in Hong Kong rallied 1.2%. The Shanghai Composite finished near breakeven.
Currencies and commodities: The dollar also suffered Wednesday, as worries about the recovery boosted speculation that the Federal Reserve will step in sooner rather than later to provide additional support to the U.S. economy.
The greenback fell against the euro and the Japanese yen, but rose versus the British pound. The U.S. Dollar Index -- which tracks the dollar against a basket of currencies -- fell 0.4% after sinking to its lowest level in eight months earlier in the day.
Gold for December delivery continued to break records Wednesday, gaining $2 to settle at an all-time high of $1,310.30 an ounce after hitting an intra-day trading record earlier in the session.
Crude oil futures for November delivery gained $1.68 to settle at $77.86 a barrel.
Bonds: The yield on the benchmark 10-year bond rose to 2.5% from 2.46% late Tuesday.
Companies: AIG is reportedly preparing to sell two of its Japanese life insurance divisions to Prudential Financial Inc. for $4.8 billion in cash, according to Bloomberg News. Shares of AIG edged slightly higher on Wednesday.
The U.S. government and AIG (AIG, Fortune 500) are also reportedly working out a deal that would allow the Treasury Department to gradually exit its majority stake in the insurer.
Shares of AOL (AOL) climbed 4.6% Wednesday after the media giant added another blog to its portfolio on Tuesday, buying technology blog TechCrunch.