Dow holds above 11,000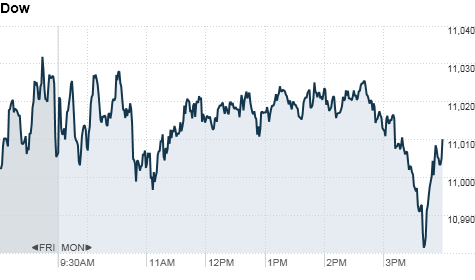 NEW YORK (CNNMoney.com) -- Stocks ended with slight gains Monday as investors shifted their focus towards corporate financial results.
The Dow Jones industrial average (INDU) gained nearly 3 points, or less than 0.1%, to close at 11,010 points. The S&P 500 (SPX) edged up 2 points, while the Nasdaq (COMP) gained about half a point.
The U.S. government and Treasury market were closed for Columbus Day, but all other financial markets were open. Trading volumes were light because of the holiday, and stocks traded in a narrow range for most of the session.
Stocks were supported earlier by ongoing speculation that the Federal Reserve will take additional steps to boost the economy.
But the market reversed course late Monday afternoon, as investors look ahead to quarterly financial statements due later this week from several major U.S. companies, including Intel, (INTC, Fortune 500) which reports after the closing bell Tuesday.
JPMorgan (JPM, Fortune 500) and General Electric (GE, Fortune 500) are also scheduled to release third-quarter results this week, as well as Google (GOOG, Fortune 500) and Mattel (MAT, Fortune 500).
"There's a lot ahead of us this week and not much news today to set the tone," said Nick Kalivas, vice president of financial research at MF Global. "I think people are waiting for direction."
A disappointing jobs report on Friday raised bets the Fed will announce plans to resume large-scale purchases of U.S. Treasurys when the central bank meets early next month, sending the Dow above 11,000 for the first time since May.
Economy: No major economic reports were on the agenda Monday, but a survey of leading economists showed that the outlook for growth remains dim.
Gross domestic product, the broadest measure of the economy, is expected to grow at a pace of 2.6% in both 2010 and 2011, according to a survey of 46 economists by the National Association for Business Economics. That's down from the group's previous prediction of 3.2%.
Given the lackluster prospects for growth, many investors expect the Fed to expand its policy of buying U.S. Treasurys. The goal is to pressure long-term interest rates and support the faltering economic recovery, a strategy known as quantitative easing, or QE for short.
The central bank bought billions of U.S. bonds and notes two years ago, but there has been some debate among Fed policymakers over whether to resume large-scale purchases. In August, the Fed said it would reinvest certain proceeds into the Treasury market.
On Tuesday, the Fed will release minutes from its September meeting, but investors don't expect any announcement about additional stimulus measures until the policy makers meet November 3.
Art Hogan, chief market analyst at Jefferies & Co., said 70% of market participants are expecting the Fed to announce another round of asset purchases next month. But in the meantime, the day-to-day focus will be on corporate earnings.
Earnings: A total of 15 S&P 500 companies will open up their books this week. According to Thomson Reuters, third-quarter results are expected to be up almost 24% from the same period a year ago, while revenues are forecast to gain 7%.
Hogan said investors are particularly eager to hear what companies plan to do with their cash, which has been piling up over the last several months.
"Cash levels remain historically high," he said. "If dividends and buybacks are announced, I think that will be applauded."
Companies: Shares of Gymboree (GYMB) surged 22% after buyout firm Bain Capital announced plans to acquire the children's apparel retailer for $1.8 billion.
The New York Times Company (NYT), which has been the subject of takeover rumors this year, rose 8%.
Microsoft (MSFT, Fortune 500) unveiled a new line of phones running the Windows Phone 7 operating system, as the software company looks to compete with the iPhone, Android and BlackBerry smartphones.
Microsoft CEO Steve Ballmer said that Windows Phone 7 smartphones would be available in the United States on AT&T's (T, Fortune 500) network.
Apple (APPL) rose to a record high of $297.74 a share before ending the day at $295.36. The stock has been supported by ongoing enthusiasm over products such as the iPad and iPhone, as well as strong sales of Mac computers. IBM (IBM, Fortune 500) also hit an all-time trading high.
World markets: European stocks moved higher. Britain's FTSE 100 gained 0.2%, France's CAC 40 rose 0.1% and the DAX in Germany rose 0.3%.
Asian markets ended the session with solid gains. The Shanghai Composite soared about 2.5% and the Hang Seng in Hong Kong jumped nearly 1.2%. Japanese markets were closed.
Currencies and commodities: The dollar rose against the Japanese yen, the British pound and the euro.
Oil for November delivery slid 43 cents to $82.23 a barrel.
Gold futures for December delivery gained $9.10 to settle at a fresh record high of $1,354.40 an ounce.
Corn prices surged for the third straight day on the back of an unexpectedly weak crop report.