Stocks: Worst day in two months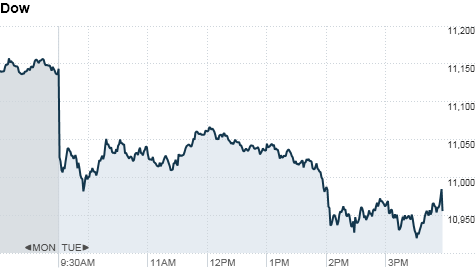 NEW YORK (CNNMoney.com) -- Stocks fell sharply Tuesday, amid reports that a group of bondholders are trying to force Bank of America to repurchase bad mortgages. Investors also weighed a surprise rate hike by the Chinese government, and mixed data on the housing market and corporate results.
The Dow Jones industrial average (INDU) lost 165 points, or 1.5%. All but two of the blue chip index's components were laggards, with Bank of America (BAC, Fortune 500) leading the decline.
The S&P 500 (SPX) slipped 19 points, or 1.6%, and the tech-heavy Nasdaq (COMP) shed 44 points, or 1.8%.
All three indexes logged their biggest daily drops since Aug. 11.
Stocks were under pressure throughout the session, but the the sell-off picked up steam in the afternoon following a Bloomberg news report that said PIMCO, BlackRock and the Federal Reserve Bank of New York are seeking to force Bank of America to buy back about $47 billion in bad mortgages that were packaged by its Countrywide Financial unit. Shares of Bank of America tumbled 4.4% on the news.
Earlier in the day, stocks drifted in the red after the People's Bank of China raised its benchmark deposit and lending rates for the first time in 3 years.
"The Chinese are basically telling the rest of the world that they're going to slow down their economy," said Mark McCormick, currency strategist for Brown Brothers Harriman. "It's kind of nerve wracking for the global economy, because China has been the key driver of world growth. This was clearly a major surprise."
But other experts said China's move isn't a cause for concern, and markets just needed a reason to take a breather.
"China's real estate values are hot, so they're putting a barrier in front of them. But I see it as a normal part of the economic recovery," said Rob Lutts, chief investment officer at Cabot Money Management. "The markets have been rallying for about 8 weeks, so it's not unusual to see them retreat between 2% and 5% -- and China's rate hike is a good excuse to reap profits."
China boosted its key lending rate to 2.50% from 2.25%, in an effort to help slow the country's rapid growth. With the rate increase, the Chinese central bank's one-year lending rate now sits at a lofty 5.56%.
Stocks ended sharply higher Monday after Citigroup (C, Fortune 500) reported upbeat financial results and a report showed improvements in the housing sector.
Companies: Ahead of the opening bell, Bank of America reported a third-quarter net loss of $7.3 billion. The bank said the loss was due to the recently passed financial reform law, for a one-time charge of $10.4 billion in its credit and debit card unit.
Goldman Sachs (GS, Fortune 500) reported a 40% plunge in profit to $1.9 billion for the third quarter, citing "challenging" market conditions. But it still managed to beat Wall Street's lowered estimates. The financial firm reported revenue of $8.9 billion, a mild increase from the year-earlier quarter. Shares rose 2%.
Johnson and Johnson (JNJ, Fortune 500) reported earnings per share of $1.23 on revenue of $14.98 billion. The stock sank 0.9% after company beat on profit but missed on sales.
J&J reported a dip in sales citing the drug recall's effect, saying it has made "considerable progress" to resolve the problem. On Monday, J&J subsidiary McNeil Consumer Healthcare recalled 127,728 bottles of Tylenol 8-hour caplets sold in the United States and Puerto Rico, due to complaints of a musty or moldy odor.
After Monday's close, Apple and IBM also posted results that topped analysts' expectations. But investors weren't satisfied, and shares of both companies fell. Shares of Apple (AAPL, Fortune 500) fell by 2.7% and IBM's (IBM, Fortune 500) stock was down 3.4%.
Shares of Yahoo (YHOO, Fortune 500) extended declines in after-hours trading Tuesday after the company reported that its quarterly net income more than doubled to $396 million from a year ago but sales missed analysts' forecast. The stock dropped 2.8% Tuesday.
Intel (INTC, Fortune 500) announced Tuesday that is investing up to $8 billion in microchip manufacturing plants, creating up to 1,000 permanent high-tech jobs in Arizona and Oregon. Shares were up 0.1%.
Shares of SuperValu (SVU, Fortune 500), which operates grocery store chains Albertsons and Shop n' Save, sank 14.9% after the company posted a steep loss in the second quarter.
Economy: A reading on September housing starts blew away expectations, but building permits lagged behind.
The U.S. Census Bureau reported that housing starts edged up in September to an annual rate of 610,000 from the revised August rate of 608,000.
Economists were expecting the report to show new home construction fell in September, with housing starts -- or the number of new homes being built -- falling to a seasonally adjusted annual rate of 579,000. This expectation was based on the previously reported rate of 598,000 in August.
Building permits rose more than 5% to the adjusted annual rate of 539,000 in September. They still fell short of the 565,000 expected.
World markets: European shares ended lower, with the FTSE 100 in Britain sliding 0.6%. The CAC 40 in France fell 0.7% and Germany's DAX slipped 0.4%.
In Asia, markets were more upbeat, but they closed ahead of China's rate hike. The Shanghai Composite rallied 1.6%, the Hang Seng in Hong Kong jumped 1.3% and the Nikkei in Japan added 0.4%.
Commodities and Currencies: The dollar rallied against the British pound, the Japanese yen, and the Euro.
The stronger buck added pressure on commodities like gold and oil, which are priced in dollars.
Gold futures for December delivery settled down $36.10 to $1,336.00 an ounce.
Crude oil for November delivery tumbled $3.59 to settle at $79.49 a barrel.
Bonds: The price fell on the benchmark 10-year U.S. Treasury, pushing the yield up to 2.48% from 2.51% late Monday.