Stocks claw out small gains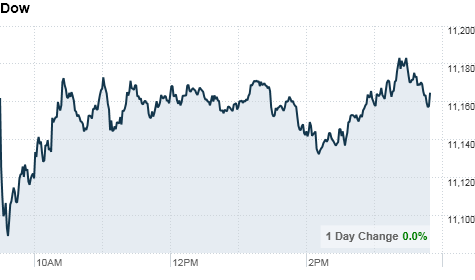 NEW YORK (CNNMoney.com) -- Stocks ended in slightly positive territory Tuesday after seesawing throughout the session, as investors weighed readings on consumer confidence and housing against a slew of earnings reports.
The Dow Jones industrial average (INDU) ticked up 5 points, the S&P 500 (SPX) rose less than a point, and the Nasdaq (COMP) gained 6 points.
Stocks climbed to six-month highs Monday, propelled higher by a stronger-than-expected report on existing home sales. But with so much uncertainty underlying the daily economic and corporate reports, volatility will continue to dominate.
"We've had a big run-up, so I don't see how they can go much higher," said Karl Mills, president and CIO at Jurika Mills & Keifer.
With the Nov. 2 elections approaching and the Federal Reserve's next policy meeting on tap early next month, the possibility of quantitative easing is also in the back of investors' minds.
"The belief is that quantitative easing is a done deal, and to a great extent that's why the market has been as buoyant as it has despite the fact that many leading indicators have stalled or gone down," said Ryan Atkinson, vice president of Balestra Capital. "But it's now late October, so a lot of players are sitting on the sidelines until the elections and FOMC meeting."
Economy: The Case-Shiller 20-City index of home prices in major metropolitan areas indicated that the housing market remained sluggish in August, with prices falling 0.2% from July. From a year earlier, prices edged up a modest 1.7%, missing the 2% rise economists had been expecting.
"[The report] is consistent with what we've been seeing," said Mills. "Housing isn't going to be coming back robustly any time soon here. We're going to have a long recovery period."
After the start of trading, the Conference Board released a report showing that consumer confidence inched up in October, but remained at historically low levels. The index rose to 50.2 from 48.6 in September, coming in slightly higher than the reading of 49 economists had forecast.
"Confidence may be improving, but with the housing market still real early in what may be a turnaround and unemployment running so high, there are still a whole lot of people out there not feeling so confident," said John Wilson, chief technical strategist at Morgan Keegan.
Companies: After the market close Tuesday, Barnes & Noble (BKS, Fortune 500) unveiled a new full-color, touchscreen version of its Nook e-reader. The company did not immediately announce the price of the new Nook Color.
Shares of Coach Inc. (COH) jumped 12% after the company posted a 34% rise in first-quarter profit and earnings of 63 cents a share -- topping analysts' estimates.
Ford (F, Fortune 500) reported third-quarter earnings that beat analysts' expectations. The automaker reported a profit of $1.7 billion, or 43 cents per share. Ford also announced plans to further pay down its debt. Shares rose 1.5%.
DuPont (DD, Fortune 500) exceeded forecasts by reporting quarterly earnings of 40 cents per share early Monday, despite a decline in pharmaceutical income related to patent expirations. Shares of the company slipped 1%.
Shares of Sony (SNE) rose 1% Tuesday, on media speculation that the electronics maker might be a takeover target for Apple (AAPL, Fortune 500).
Shares of Lexmark (LXK) tumbled 21% after the printer-maker's CEO Paul Curlander announced that he will retire in the spring of 2011.
Late Monday, insurance giant AIG (AIG, Fortune 500) disclosed that its chief executive, Robert Benmosche, has been diagnosed with cancer and is undergoing "aggressive" treatment. AIG shares jumped 2.3%.
World markets: European stocks finished with losses. Britain's FTSE 100 dropped 0.8%, and the DAX in Germany was down 0.4%. France's CAC 40 slipped 0.5%.
Asian markets ended the session lower. The Shanghai Composite was off 0.3%, while the Hang Seng in Hong Kong was 0.1% lower. Japan's Nikkei fell by 0.2%.
Currencies and commodities: The dollar strengthened against the euro and the Japanese yen, but fell against the British pound.
Oil for December delivery added 3 cents to settle at $82.55 a barrel.
Gold futures for December delivery fell 30 cents to $1,338.60 an ounce.
Bonds: The price on the benchmark 10-year U.S. Treasury fell, pushing the yield up to 2.65% from 2.57% late Monday.