Stocks set for gains following jobs report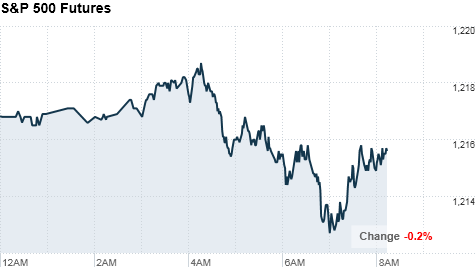 NEW YORK (CNNMoney.com) -- U.S. stocks were set for more gains on Friday, as investors react to a strong government monthly jobs report, which showed an increase of 151,000 jobs in October.
Stocks staged a major rally Thursday, a day after the Federal Reserve's announcement to pump $600 billion into the economy. All three main indexes finished at two-year highs.
Ahead of the opening bell Friday, Dow Jones industrial average (INDU), S&P 500 (SPX) and Nasdaq (COMP) futures were all lower Futures measure current index values against perceived future performance.
The labor market has been a focus for investors hoping for recovery, and the market should react favorably to the latest barometer. Reports on housing and consumer credit are also on tap.
Economy: The U.S. added 151,000 jobs in October and the unemployment rate holds at 9.6%, the Labor Department says. The private sector grew by 159,000 jobs.
A consensus estimate from analysts polled by Briefing.com expected employers to have added 60,000 jobs in October after cutting payrolls by 95,000 the month before.
Also after the opening bell, the National Association of Realtors is set to release its pending home sales index. The index, which is a measure of sales contracts for existing homes, is expected to have risen by 2.5% in September after jumping by 4.3% in August.
A report on consumer credit is due late in the afternoon, and it's forecast to show a decline of $3.5 billion in September. The figure fell by $3.3 billion in the previous month.
Companies: AIG (AIG, Fortune 500) reported a loss of $2.4 billion, citing costs associated with the sale of certain insurance units that it needed to divest in order to repay the U.S. government. AIG's stock fell about 2.8% premarket.
Toyota (TM) reported strong sales for the six months ending Sept. 30, posting a net income of $3.6 billion despite the negative impact of the stronger yen. The company attributed the earnings jump to cost-cutting measures. The report comes a day after Toyota reported a drop in monthly auto sales.
DISH Network (DISH, Fortune 500) reported an 11% rise in revenue to $3.21 billion and said it earned 55 cents a share. That was better than the 42 cents a share that analysts expected. Sales also topped forecasts, which called for the satellite TV provider to report revenue of $3.15 billion.
World markets: European stocks dropped slightly in morning trading. Britain's FTSE 100 was down 0.1% and the DAX in Germany was just below its previous close. France's CAC 40 dropped 0.1%.
Asian markets ended the session higher. The Shanghai Composite was up 1.4%, while the Hang Seng in Hong Kong was up by 1.4%. Japan's Nikkei also rose 2.9%.
The Bank of Japan announced it would maintain its low interest rates, leaving the overnight call rate at between zero and 0.1%.
Currencies and commodities: The dollar strengthened against the euro and British pound, but fell against the Japanese yen
Oil for December delivery gained 16 cents to $86.65 a barrel.
Gold futures for December delivery fell about 90 cents to $1382.20 an ounce, retreating from an earlier intraday record high of $1394.40 an ounce.
Bonds: The price on the benchmark 10-year U.S. Treasury fell, pushing the yield up to 2.51% from 2.48% late Thursday.