Stocks poised for lower open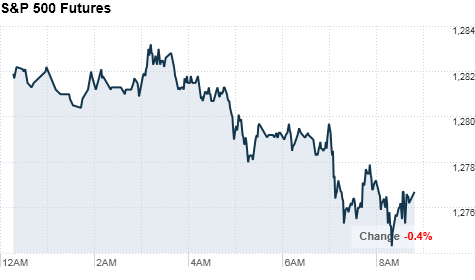 NEW YORK (CNNMoney) -- U.S. stocks were headed for a lower open as investors mulled over earnings results from JPMorgan and government reports on inflation and retail sales.
Dow Jones industrial average (INDU), S&P 500 (SPX) and Nasdaq (COMP) futures were down ahead of the market open. Futures measure current index values against perceived future performance.
Stocks ended lower Thursday in a lackluster session as investors geared up for a barrage of earnings headed their way.
"Earnings season gets full-blown next week, so that's going to have a much more influential impact on what happens in the market," said Mark Luschini, chief investment strategist at Janney Montgomery Scott.
"People will be looking to see if companies talk about an improving economic climate that syncs with what economists are saying about growth pacing at a faster clip, and they want to see what company management says about hiring prospects -- because in order to sustain an economic recovery, we need to see jobs growth," he added.
Stocks have been on a roll lately, and analysts expect that trend to continue, saying the daily pullbacks are actually a good sign that the market is keeping itself in check.
Companies: Before the opening bell, JPMorgan Chase (JPM, Fortune 500) reported a 47% jump in fourth-quarter earnings to $4.8 billion, or $1.12 per share. That beat the 99 cents per share forecast by analysts.
But JPMorgan bolstered its reserves for mortgage-related legal expenses for the second straight quarter, and the investment bank's stock edged lower in premarket trading.
Luschini said Wall Street is looking for more this earnings season.
"News that doesn't continue to really surprise on the upside looks like it's going to be treated as indifferent," said Luschini. "This is more of the same JPMorgan has been reporting -- it's encouraging and a leading signal for what other banks are likely to do, but the real impetus behind banking is loan activity, which is still nascent."
Coinstar (CSTR), which owns the $1 DVD rental kiosk company Redbox, reported profits and sales that missed expectations after the closing bell Thursday. Shares of the company tumbled 27% in premarket trading.
After the market close Thursday, Intel (INTC, Fortune 500). reported the best fourth-quarter earnings in company history -- both the chipmaker's revenue and profit set new records. Shares of the chipmaker were up about 1% in premarket trading.
Economy: Before the opening bell, the government reported that both inflation and retail sales rose last month, but neither reading was strong enough to lift markets.
"They weren't bad reports, they were just indifferent, and not enough to take equities another leg higher," said Luschini.
The Commerce Department's Consumer Price Index, a key measure of consumer inflation, rose 0.5% in December after inching up 0.1% in the previous month.
CPI was expected to have increased 0.4%. Core CPI edged up 0.1%, after rising the same amount in November. The increase was in line with estimates.
Separately, the Commerce Department said retail sales increased 0.6% in December, following a rise of 0.8% in November. Sales were expected to have gained 0.7%. Sales excluding autos rose 0.4%, after jumping 1.2% in the previous month. That missed the 0.6% gain economists had forecast.
The Federal Reserve reports on manufacturing activity later in the morning. Industrial production is expected to have increased 0.4% in December. Capacity utilization is expected to have risen to 75.5% in December, from 75.2% in the previous month.
The University of Michigan's consumer sentiment index for early January is expected to have ticked up to 75.5, from 74.5 in late December.
November business inventories -- due after the start of trading -- are expected to have edged up 0.8%, after rising 0.7% the previous month.
World markets: European stocks were down in midday trading. Britain's FTSE 100 slipped 1%, the DAX in Germany fell 0.7% and France's CAC 40 edged down 0.3%.
Asian markets ended mixed. The Shanghai Composite tumbled 1.3% and Japan's Nikkei fell 0.9%, while the Hang Seng in Hong Kong ticked up 0.2%.
China's central bank said Friday it will raise the reserve requirement ratio for the nation's banks by half a percentage point. The move came after the government hiked reserve requirements six times last year, as the nation attempts to combat inflation.
Currencies and commodities: The dollar fell against the British pound, but rose versus the euro and the Japanese yen.
Oil for February delivery slipped 91 cents to $90.49 a barrel.
Gold futures for February delivery slumped $23 to $1,364 an ounce.
Bonds: The price on the benchmark 10-year U.S. Treasury fell, pushing the yield up to 3.32% from 3.31% late Thursday.